Content Count

404

Joined

Last visited

Days Won

9
Community Reputation
531
Equestriańska Legenda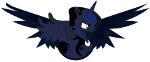 26 Followers
About Glace
Rank

LUNARNY GWARDZISTA xD


Birthday

March 30
Informacje profilowe
Gender
Miasto
Zainteresowania

Muzyka, Rysowanie, Gry, Historia, Informatyka, Rozdawanie Repek


Ulubiona postać
Kryształowego kucyka można rozpoznać po oczach, Sombra chciał odzyskać władzę w Królestwie, którą utracił.

XANAXTHOUS replied to topic's Glace in Muzyka

Serial nie jest w 100% kanoniczny do komiksów. W serialu Sombra jest postacią, o której niestety mało wiemy, ale wątpię, żeby był Kryształowym Kucykiem, bo zapomniłeś o bardzo istotnej kwestii, Kryształowe nie występują jako jednorożce. Przynajmiej nigdy takiego nie ujrzeliśmy w serialu, oraz w jaki sposób jego zbroja miała by to ukryć? i nie widzę żadnego powodu dlaczego miał by to robić? trochę bezsensowna ta argumentacja.

Nie wiem czy to pasuje do działu G4 ale dobra. Link

Z fandomowej muzyki Najbardziej lubię słuchać utworów Jyc Row, 4everfreebrony, Francis Vace.

Glace

changed their profile photo

- Youtube Kids 

1

1

Bardziej chodzi mi o to co Youtube zrobiło większość fandomowych piosenek zostało dodane do ,,Youtube Kids" i wyłączyli możliwość komentowania ponieważ według Youtube jest to film ,,dla dzieci" xD

2

Poroniony jest ten yt kids. Ostatnio nawet shorty z Czarnobyla od HBO były uznane jako dla dzieci, przez co nie poza brakiem możliwości komentowania, nie można też dodać filmów do ulubionych czy na później, co jest jakieś absurdalne.

1

Z ciekawości zajrzałem na film z animacją fanfika ,,Cupcakes" (którego nie oglądałem bo gore nie należy do moich ulubionych) i jest on ,,dla dzieci" ten nowy algorytm jest jakiś chory, nie wiem kto w tym Youtubie pracuje że, jest już tak z tydzień i nikt z tym nic nie zrobił xD.

1

Myślę, że to będzie łatwe.

Trover Saves the Universe

10 sezon będzie raczej przed koronacją Twilight, bo gdyby był o Luster Dawn to było by minej więcej samo co w 1 sezonie tylko postacie inne co by było bezsensu, pod koniec epiloga widać, że prawdobodnie Luster też została wysłana do Ponyville tak samo jak Twilight na początku.