Content Count

422

Joined

Last visited

Days Won

9
Community Reputation
535
Equestriańska Legenda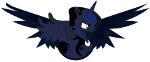 26 Followers
About GlaceCordis
Rank

Przegryw


Birthday

March 30
Informacje profilowe
Gender
Miasto
Zainteresowania

Muzyka, Rysowanie, Gry, Historia, Informatyka, Rozdawanie Repek


Ulubiona postać

☆Trixie☆, Twilight, RD, Fluttershy, ✦Starlight✦,Minuette, Lyra, Sunset, ☾Luna ☾ ,Derpy, Cadance, Octavia, Rarity, Celestia
Nie wiem czy to pasuje do działu G4 ale dobra. Link

Z fandomowej muzyki Najbardziej lubię słuchać utworów Jyc Row, 4everfreebrony, Francis Vace.

Wszystkiego najlepszego w dniu urodzin 

1

GlaceCordis

changed their profile photo

- Youtube Kids 

1

1

Bardziej chodzi mi o to co Youtube zrobiło większość fandomowych piosenek zostało dodane do ,,Youtube Kids" i wyłączyli możliwość komentowania ponieważ według Youtube jest to film ,,dla dzieci" xD

2

Poroniony jest ten yt kids. Ostatnio nawet shorty z Czarnobyla od HBO były uznane jako dla dzieci, przez co nie poza brakiem możliwości komentowania, nie można też dodać filmów do ulubionych czy na później, co jest jakieś absurdalne.

1

Z ciekawości zajrzałem na film z animacją fanfika ,,Cupcakes" (którego nie oglądałem bo gore nie należy do moich ulubionych) i jest on ,,dla dzieci" ten nowy algorytm jest jakiś chory, nie wiem kto w tym Youtubie pracuje że, jest już tak z tydzień i nikt z tym nic nie zrobił xD.

1

Myślę, że to będzie łatwe.

Trover Saves the Universe

2

10 sezon będzie raczej przed koronacją Twilight, bo gdyby był o Luster Dawn to było by minej więcej samo co w 1 sezonie tylko postacie inne co by było bezsensu, pod koniec epiloga widać, że prawdobodnie Luster też została wysłana do Ponyville tak samo jak Twilight na początku.

Sequel MLP movie to Rainbow Roadtrip w 2021 24 września co zostało potwierdzone tutaj wyjdzie film ale nie wiadomo czy to będzie G5 lub G4

Sun replied to topic's GlaceCordis in Projekty

Są jeszcze jakieś szanse na dodruk ?