Content Count

7

Joined

Last visited
Community Reputation
0
Neutral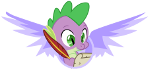 About GallifreyBrony
Rank

zaPACZona w Derpy =3

Informacje profilowe
Gender
Miasto
Zainteresowania

wilki, rysunek, anime, Dr.House, Doctor Who, MLP!

Ulubiona postać

-Derpy ;3 I like muffin's!
Recent Profile Visitors
The recent visitors block is disabled and is not being shown to other users.
nie bylo mnie piewien czas... a kiedy chce wrocic widze TO... Troche zal mi sie zrobilo bo jak poyslalam, ze juz nie bedzie tych osob z ktorymi milo spedzalam czas... A teraz moge tylko wspominac. Derpy zegna... I dziekuje wam wszystkim i Administratorom bo to dzieki nam wszystkim ten serwer istnial (przynajmniej takie jest moje zdanie)

ooo! pamiętam ;3 Fluttercraft Jakos ostatnio odcięłam się od MC i żałuję... Ale nauka... Chętnie wróciłabym do Flutercrafta

...zemdlala wiec jej przyjaciolki...

...przybyla takrze grupa ulubionych lotników RD a mianowicie Wonderbolts i...

...jej przyjaciółek co spowodowalo ze Pinie...

...Scotaloo byla jako pierwsza...

...pomalowalowala sie na kolor (napiszcie jaki)...

//spoko spoko... to chyba po czesci do mnie\\ ..co spowodowalo ze twi znormalniala, ale w palacu...