 Content Count

3

Joined

Last visited
Community Reputation
6
Neutral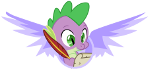 Witam wszystkich! Chciałbym pochwalić się moją grą, która z założenia miała być eksperymentem. Jest to sieciowy TPS inspirowany Fallout Equestria. W przeciągu półtora roku hobbistycznie, w wolnym czasie, pracowałem nad projektem. Chciałbym zaznaczyć, że jest to wczesna wersja rozgrywki skierowana raczej na mechanikę aniżeli na wygląd. Aktualnie gra posiada: -Jedną grywalną mapę. -Tryb multiplayer. -Kreator postaci. -Podział na trzy klasy: kucyk ziemny, pegaz i jednorożec. -Różnorodności broni zależną od klasy postaci - pistolety, shotguny, sniperki, miotacze ognia, karabiny maszynowe, granaty czy nawet miecze. Screeny z gry: >Kliknij by zobaczyć< Linki do pobrania (wraz z instrukcją gry): Windows, wersja 32bit Windows, wersja 64bit Przechodząc do sedna, poszukuję kogoś z umiejętnościami modelowania (najlepiej w blenderze) kto mógłby mi pomóc z tworzeniem gry, ponieważ nie jestem w stanie ciągle odrywać się od programowania w celu modelowania czy teksturowania. Dodatkowo przyda mi się świeże spojrzenie na projekt oraz nowe pomysły. Można mnie znaleźć na discordzie szukając znajomego o kodzie: #0410 lub na steamie: Link do profilu

To był mój pierwszy meet, ale dzięki niemu przekonałem się do jeżdżenia na takie wydarzenia. Dziękuję

[email protected]

Ja byłem tym brodatym... To był mój pierwszy ponymeet, dziękuję wszystkim ludziom, którzy tam byli oraz organizatorom.