 Content Count

12

Joined

Last visited
Community Reputation
7
Neutral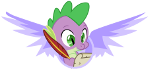 Recent Profile Visitors
The recent visitors block is disabled and is not being shown to other users.
Słuchajcie, a SparkleSubs padło?

Też mi się tak wydaje. Bo ma nieco podobny znaczek jak Sunburst.

No, ale w 26 odcinku już są nowym mane 6.

No cóż, taki przeskok w czasie ma zalety i wady. Na pewno chcieli pokazać to, jak się zmienili bohaterowie. Na plus wg. mnie jest to, jak Discord pomaga, te portale w schronisku etc. Co do związków, najbardziej zaskakujący wg. mnie był Rainbow i Applejack. Co do wyglądu Twilight, to nie jestem zaskoczony, patrząc na inne alicorny. Może ten wzrost też jest przez to, że przez chwile miała w sobie magię 4 alicornów, bo w 4 sezonie ją dostała, żeby wyrównać szanse przeciwko Tirekowi.

W finale mane 6 były trzy grupy, w tym spike, skoro Twilight przyjęła tęcze, tzn. że Spike ją zastąpił jako element harmornii - element magii?

No jasne, bo przecież ona aż tak była łaskawa dla wszystkich, bo chciała usunąć całą magię. W sumie to mogli ich jeszcze wysłać w pustkę.

Wg. mnie szkoda, że jednego smoka zabrało w bitwie. Ojca Ember.

Mi tam się to podobało. Chociaż mówię, że wolałbym, jakby rzeczywiście wprowadzili Grogara. Mógłby nawet być taki scenariusz, że Grogar postanowił zabić 3 złoczyńców a ci by postanowili zawiązać sojusz z mane 6. Miałoby to więcej sensu.

No właśnie, a nie ma z dubbingiem 26 odcinka.

A mi się tam podobał. Ogólnie to było wiadome, że generacja się kończy z chwilą otwarcia Szkoły Przyjaźni.

Jest kanał na yt MD. Tanzim, on daje źródła do odcinków, z których nie da się pobrać.

Draku

joined the community

Czy ktoś zauważył w scenie powrotu magii, że oprócz Rarity i Twilight, do Pinkie też wróciła?