Content Count

114

Joined

Last visited
Community Reputation
1
Neutral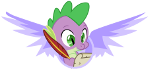 About Luna-Willow
Rank

Myślicielka


Birthday

03/27/2000
Informacje profilowe
Gender
Miasto
Zainteresowania

Gry! Książki! MANGA! I Alicja w Krainie Czarów! No, i poniacze, gdyż frendszip is medżik etc.

Ulubiona postać

Aktualnie THE BEST is Rarity.
Poza tym lubię Twilight, AJ, Fluttershy, Lunę, Sweetie Belle, Pinkie Pie, Trixie, Gildę... To chyba wszyscy...
Recent Profile Visitors
The recent visitors block is disabled and is not being shown to other users.
Byaku replied to topic's Luna-Willow in Sezon IV

Może nie jest to subiektywna ocena, ale twórcy nareszcie pokazali, że D-Do nie jest przekolorowaną RD

Magenta Marvelous replied to topic's Luna-Willow in Rarity

Rarity i Swieetie Belle + magia? Jak najbardziej! Poza tym chciałabym samodzielny wątek Rarci, bez żadnych innych kucyków grających główną rolę.

Dzięki Ci :> To było miłe

Wiem, że masz zamówień w ciul, ale po chamsku dorzucę coś od siebie :> Aby zamówić pracę, wystarczy że złożysz post według wzoru: Typ pracy: sygnatura Tematyka: MLP, AJ i/lub Rarity Kolorystyka: Obojętne Napis: Luna Inne: -

Ekhem, odkopuję ten temat z powodu nowych rysunków. Teraz ich nie zobaczycie, ponieważ nie zrobiłam im jeszcze zdjęcia. Możecie poczekać.

Dzięki Ci, ta tapeta zaraz ozdobi mój pulpit :3

Ja mam zamówienie na tapetę z Twilicornem, jak znajdziesz.

Czymam kciuki lordzie. Moja kolejna historia. Mamy informatykę. Gdy wykona się zadanie można na net wejść. Chłopak z mojej klasy wszedł na stronę Transformice. Jako iż siedział koło mnie to zaglądnełam. Ja: Który to ty? On: Ten z żółtym napisem. Patrzę na jego myszę no i się dziwię, że ma grzywę Rainbow Dash. No to się pytam: Ja: Dlaczego twoja mysz ma grzywę Rainbow Dash? On: Bo ją lubię. Ja: Oglądasz kucyki? On: Ta, są fajne. Ja: Wiesz, że ja też? Myślałam, że jestem jedyna w klasie, a tu takie zaskoczenie

Muszę Cię pochwalić. Bardzo mi się podoba

Ja dopiero stoję u początku przygody z Śródziemiem, prawie całego Hobbita przeczytałam, ale mam zastój. Do Władcy mam takie szczęście, że trylogię mamy w domu od mojego urodzenia, bo mama czytała i tata czytał

Leciała razem z przyjaciółmi, starając się prosto trzymać.

Ok, tera ja się wypowiem. Legenda Korry to dla mnie beznadzieja. Korra od razu potrafi panować nad trzema żywiołami. Aang tego nie potrafił, uczył się i to było fajne. Poza tym, w Airbenderze są lepsze postacie, fajniejsze miejsca... Poza tym, to całe miasto mi się nie podoba. Unowocześnienie zwłaszcza. Każde królestwo miało swoje tradycje, unikalny wygląd... A teraz zebrali to wszystko do kupy no i dupa. Jest jeszcze coś co mnie wkurza, ale o tym potem.

Ustawiła się wśród innych.

Willow szybko się schowała.