Content Count

39

Joined

Last visited
Community Reputation
1
Neutral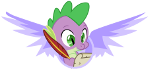 Informacje profilowe
Gender
Zainteresowania

Głównie interesuję się grami, wprost kocham takie serie jak Assassin's Creed, Wiedźmin, Half-Life, The Walking Dead, TF2, L4D2 czy DotA. A jest ich sporo więcej :v
Muzyką, słucham różnych styli, obecnie uczę się grać na gitarze i pianinie.
Filmami, głównie thrillery, horrory, akcji, lecz też obyczajowe i komedie.
Lubię fanfiki, najbardziej cenię sobie te o kategoriach Komedia, Shipping, Grimdark, Crossover, Sad i Life.
Od czasu do czasu zdarzy mi się przeczytać też jakąś książkę. Lubię też czasem coś upiec, choć różnie mi to wychodzi.
No, i oczywiście kucykami.

Ulubiona postać

Uwielbiam je wszystkie, jednak jeśli mam wybierać:
1. Rainbow Dash
2. Luna
3. Discord
4. Applejack
5. Pinkie Pie

a z fandomowych najbardziej mi podchodzą Derpy, Vinyl i Octavia.
Widzę, że lubisz pisać, a to, co piszesz czyta się przyjemnie. Witaj, baw się dobrze

Witaj i baw się dobrze 1. Wyjaśniono 2. Myślę, że tak 3. Sam nie ogarniam jeszcze tego forum, jednak mogę powiedzieć, że\ -Są tu mili ludzie -Są tu publikowane dobre fanfiki -Zawsze coś się tu dzieje 4. Oczywiście Rainbow Dash!

Imeshovy replied to topic's Arey in Archiwum

W odcinku w którym CMC dają występ Applebloom na początku proponuje, by ona zajęła się dekoracjami, Sweetie Belle śpiewem a Scotaloo akrobatyką. Ten pomysł został szybko rozmyty, bo każda chciała się zajmować czymś innym. Myślę, że ich Cutie Marki będą miały związek z jej początkowymi planami, a gdyby przystały wtedy na ten pomysł to każda by mogła zdobyć CM dużo wcześniej. A co do tego kiedy je zdobędą, pewnie będzie to pod koniec ostatniego sezonu, ponieważ jest to zbyt dobry wątek poboczny bo go kończyć wcześniej.