Content Count

9,671

Joined

Days Won

267
Community Reputation
6,819
It's time to stop, przestań postować w galeriach i weź się za życie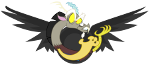 222 Followers
About BiP
Rank

BRONIESiPEGASIS


Birthday

01/25/1989
Informacje profilowe
Gender
Miasto
Ulubiona postać
Hoffman replied to topic's BiP in Galeria

XANAXTHOUS replied to topic's BiP in Muzyka

No mnie też to zdziwiło, a najciekawsze jest to, że nikt nawet nie zapytał o jego matkę, której też nie poznasz nawet jej imienia czy też nie zobaczysz zdjęcia. Bo mogła już np nie żyć, gdyż mogła zginąć na tej wojnie, ale nie nikt nie poruszy tego tematu. Yup, bo dopiero później Catra zacznie awansować w hierarchii hordy i "zbliżać" się do Hordaka. I te ich relacje też są dosyć ciekawe, nie tak jak z Adorą, ale też je śledziłem z zaciekawieniem.

Wybrałeś najgorsze postaci z serialu, jakby tego było mało, to ten Bow ma dwóch ojców i 12 rodzeństwa, którego nawet nie poznasz do końca serialu Ale "siłą" tego serialu jest Adora i Catra i te ich relacje pomiędzy sobą. To jest fundament serialu. Ponadto jeszcze to jak zmieniają się relacje między Catrą a Hordakiem.

No to dlatego rozczarowanie jakbyś obejrzał całość, to może uznałbyś to za jeden z najlepszych seriali animowanych, przynajmniej jeśli oceniać fabułę.

A obejrzałeś całość czy tylko początek ?

Jak wyjdą napisy lub dubbing, to może i ja obejrzę, ciekawe czy ten serial okaże się lepszy od She-Ry?

Wygląda jak gra dla dzieci, a jest tam chociaż wersja polska lub przynajmniej napisy?