Content count

956

Joined

Last visited
Community Reputation
1753
Canterlocki Skryba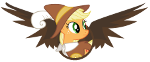 34 Followers
Informacje profilowe
Gender
Ulubiona postać

♥Twilight Sparkle♥, Starlight Glimmer, Luna, Sassy Saddles, Carmelita Fox
Chip replied to GlaceCordis's topic in Feedback

miałem podobnie, dawaj grafiki w png lub gif (o ile dobrze pamiętam)

Tak mi się wydaje że może mieć te 200-500W, ale naprawdę nie pamiętam - musiałbym pojechać do dziadków i sprawdzić. Kiedyś będąc jeszcze w technikum miałem okazję naprawiać komuś jakiś wielgachny stareńki prostownik selenowy (przykład poniżej) i właśnie tak z topornej lutownicy znalazłem użytek.

jest to lutownica, mam podobną tylko w wersji prostej. Strasznie toporna i dziś jak dla mnie zupełnie do niczego się nie nadająca (SMD 1206 czy jakiegoś scalaka w obudowie np SO-8 nie polutujesz, a już na pewno przegrzejesz)... może oprócz lutowania bardzo grubych kabli

Użyłbym jego pustego łba jako dłuta do rozbicia betonu Co byś zrobił gdyby nastąpił kolejny rozbiór Polski?

Wygrywać z poniaczami nie ma sensu - i tak chodzą na golasa, w sensie no że bez ubrań.... Armator

- W zeszłym tygodniu skończyłem Red Dead Redemption 2... Co jakiś czas pogrywam w: - Overwatch; - Horizon Zero Dawn; - Spyro reignited trylogy; - Diablo 3; - Wiedźmin 3; BTW: Co z gier na PS4 Byście mi polecili?