Content Count

25

Joined

Last visited
Community Reputation
12
Neutral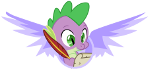 About Vaniliomik
Rank

Mól książkowy


Birthday

06/09/2002
Informacje profilowe
Gender
Miasto
Zainteresowania

czytanie (głównie fantastyka)

Ulubiona postać

Sunset Shimmer, Fluttershy, Blossomforth
Jeśli chcesz znać mój punkt widzenia to nie, nie boję się śmierci. A Brony to ranga tak jak np. Grafik.

Co sądzisz o śmierci? Boisz się jej? A może jest ci to obojętne? Zapraszam do dyskusji!

The Silver Cheese replied to topic's Vaniliomik in Off-topic

To zależy, czy osoba, która umarła lubiła życie. Jeśli pragnęła śmierci, cieszę się razem z nią. Jeśli kochała życie, smutno mi, że zostało jej odebrane.

Bloody Rose replied to topic's Vaniliomik in Na start...

Witaj! Mam nadzieję, że ci się tu spodoba Mam do ciebie kilka pytań: 1. Jakiego kuca lubisz najmniej? 2. Coca Cola vs Sparkle Cola? 3. Boisz się śmierci?

Dla osób, które mają waifu to najwidoczniej ma sens.

Witaj, o Celestio? A może raczej Molestio? Czy to prawda, że molestujesz swoich poddanych? 

Cytując pewnego gościa z zapytaj.onet.pl: "Wybierasz sobie daną 2D na swoją waifu (wymowa ang słowa wife - żona), choć niektórzy twierdzą, że u nich to była miłość od pierwszego wejrzenia. I odtąd traktujesz ją jako swoją wybrankę serca.nie zdradzi cię i możesz z nią robić co zechcesz."

Salmonella replied to topic's Vaniliomik in Książki

Moją ulubioną książką, a raczej serią książek jest "Baśniobór".

a topic posted Vaniliomik in Książki

Jak w temacie Moim ulubionym bohaterem literackim jest smok Raxtus z Baśnioboru.

Czego nie lubię w fandomie? Przede wszystkim, nie lubię dzieci, które wprost marzą, aby całe M6 zostało alikornami. Poza tym na razie nic nie przychodzi mi do głowy.

Zdecydowanie jestem na nie. Błagam cię, wyobrażasz sobie taką Fluttershy jako księżniczkę? Albo Applejack? To by było mocno naciągane.

"Trochę" to mało powiedziane. Następnym razem wykaż się kreatywnością, bo to irytujące kiedy ktoś coś ode mnie kopiuje. Napisałeś to sam? Nie wydaje mi się.