Content Count

3

Joined

Last visited
Community Reputation
0
Neutral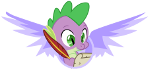 About DerpyDash_0
Rank

Źrebaczek


Birthday

04/15/1989
Recent Profile Visitors
The recent visitors block is disabled and is not being shown to other users.
EquestriaBoy ją lubi , ale mi podoba się jedynie pullip . Jej przeciąganie w piosenkach przypomina gwizd mojego czajnika . so sweet .

Według mnie najlepsza 3 część . jak mi się na wakacjach znudziło łapanie krętorogich chrapczyków , to zaczęłam czytać . Aquamenti ! Nie podpalaj mi książek , wstrętny feniksie ! AUA ! Mnie też nie , ty plugawy zdrajco! AUUUU !

Bluedraft replied to topic's DerpyDash_0 in Archiwum

Iskra Emocji Zaklęcie powodujące nadmierne odczuwanie różnych uczuć . Przydaje się dla kuców o kamiennym sercu , jednakże kucyk nie może rzucić owego zaklęcia sam na siebie . Działa przez ok . tydzień . Objawia się iskrzeniem serca . Jeżeli kucyk , który rzucił zaklęcie nie zechce go zdjąć , uczucia doprowadzają kucyka zaczarowanego do obłędu , co prowadzi do zgonu .

1.Fluttershy nie powiedziała jej , że Fernando ciągle ją śledzi , o czym dowiedziała się ,,przypadkiem" przechodząc obok okna Rarity . 2.Tajemniczym kucykiem jest książe BlueBlood , który przekonał się , że i on zakochał się w Rarity . 3.Celem jego podróży jest bliższe poznanie klaczy .

1.Napaść na dostawców tęczowego lukru , dowożących go do Kącika Kostki Cukru . 2.Prośba państwa Cake o zrobienie 888 tęczowych babeczek ( pod groźbą poszczucia ich Rainbow Dash ) . 3.Podrzucenie babeczek Pinkamenie , co zatrzyma ją w swojej Samotni . Sorki , że po czasie , ale moja sznurówka zaczepiła się o Rainbow , która przeleciała całą kulę Ziemską . Pech , że sznurówka wypadła z dziurek w bucie akurat gdy RD przelatywała nad Saharą ...