Content Count

18

Joined

Last visited
Community Reputation
0
Neutral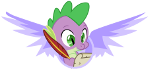 About Capper The Cat
Rank

Źrebaczek


Birthday

08/26/1995
Kontakt
Informacje profilowe
Gender
Miasto
Zainteresowania

Słuchanie muzyki
Elektronika
Gry
Oglądanie ulubionych odcinków MLP(to chyba robi każdy na forum)

Ulubiona postać

Rainbow Dash
Rarity
Trixie
Starlight Glimmer
Twilight Sparkle
Fluttershy
Countess Coloratura/Rara
Cutie Mark Crusaders(AppleBloom, Sweetie Belle, Scootaloo)
Zgadza się. Na początku wydawało mi się to dziwne

Ja oglądałem ten odcinek sporo razy, ale jak obejrzałem dokładnie, to widziałem błąd w animacji, oczywiście na pierwszy raz oglądania zobaczyłem coś dziwnego. Jeśli zobaczycie ten błąd, to piszcie. Miłego zgadywania (o ile nie zauważyliście tego prędzej ode mnie)

Powiedziałem śnieżyca tak w przenośni, ale mocno sypało. W niektórych ulicach niekiedy trudno było przejechać. Wiem słownie troszkę przesadziłem przepraszam. Powinienem lepiej dobierać słowa ;-D

Czy u was też jest taka śnieżyca jak u mnie? Bo u mnie tak sypie, że nie można się gdziekolwiek ruszyć.

Aha sorka, nie miałem czasu sprawdzić regulaminu forum.

Widzę, że masz Minuette na zdjęcie profilowe.

Oto moje odpowiedzi na te pytania: 1. Ten nick jest stąd, że mam ten film z tą postacią w obsadzie (MLP:The Movie) 2.Jestem za Lunarnią, bo z Księżniczką Luną są fajne odcinki np. "Luna Odmieniona" i "Dobranoc" 3. Nie czytam i nie gram, tylko prawie codziennie oglądam moje ulubione odcinki, a mam ich 29. Spora kolekcja prawda?

Miło mi i to bardzo. DOBREJ NOCY ŻYCZĘ

Yyyyy nie. To tylko taki dodatkowy filmik z serii Equestria Girls Shorts

Ja widziałem tą wersję Starlight w MLP:EG Magia Lustra. W tym filmiku naprawdę wygląda zajefajnie. NORMALNIE BOMBA

Mówisz o tych odcinkach przed serią MLP:Przyjaźń To Magia?

No hej co tam? Jeszcze kolego nie śpisz?

Powiem ci tak: 1. Nie kłamię ile mam lat bo serio mam tyle ile napisałem (czyli 22) 2. Za bardzo nie umiem i wiem że nie będę umiał grać w te wasze gry(nawet nie będę próbował, bo licho wie jak mi wyjdzie, więc mnie nie namawiajcie do tego) 3. Mam 3-letni talent plastyczny 4. A na telefonie mam 29 moich ulubionych odcinków, bo więcej mi się na kartę pamięci nie zmieści i mam wszystkie części My Little Pony:Equestria Girls + kilka dodatkowych odcinków serialu, ale to mam na konsoli PS3

Mam pytanko do wszystkich. Na czym oglądacie MLP, a jeśli na telefonie/tablecie to powiedzcie ile macie pobranych odcinków (jeśli je pobieracie) okej? To ja też powiem ile ja ich mam.

Jakieś 3 lata temu skończyłem Technikum Ekonomiczne i do tej pory nudzę się w domu.