Content Count

21

Joined

Last visited

Days Won

1
Community Reputation
14
Neutral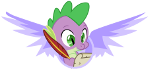 About Arkon.fallout
Rank

Źrebaczek


Birthday

10/03/2000
Informacje profilowe
Gender
Miasto
Zainteresowania

Oczywiście oglądanie mlp.
Granie w gry.

Ulubiona postać

Fluttershy , Discord i Król Sombra
Ależ drogi Diskordzie jeśli masz we władzy moce chaosu (jak dla mnie moce nie chaosu tylko błazna) to możesz wszystko. Mówi ci to sam Mroczny Kieł. I nowe pytania. 1. Słyszałem że masz dziecko Discrod. Czy nie powinniśmy za to wypić ??. 2. (Pytanie bardziej do Clock) Jak to jest żyć i nie umierać (czy ty możesz umrzeć??. 3. Discord czy sądzisz że na serio dostaniesz swój tron ? 4. Co sądzisz o władzy Celestii i Luny? 5. Co czułeś po zdradzie Tirecka? 6. Czemu miałbyś się obrazić że spytałem czy jesteś jeszcze zły ? Przecież to było bardziej pochlebne jak dla tylko ducha chaosu. To tyle z mojej strony jak na razie

Hejka jestem Paweł z Mościejewa , okolice Poznania (woj.Wielkopolskie). Interesuje się bronią i rzeczami związanymi z nimi. Moje hobby to zbieranie noży. Mam lat 16. Uwielbiam serial MLP i moim ulubionym kucykiem jest Fluttershy. Tak samo lubię sobie pograć na komputerze lub Xboxsie w jakieś strategie lub gry akcji a nawet horrory :P. Jestem wielkim fanem Linkin Park i Green Day (ogólnie lubię każdy odłam metaliki i rocka)

Witaj na forum życzę dobrej zabawy.

Szukam bronych do gry Crytical OPS (NWM czy dobrze). Zapraszam do wysyłania wiadomości oraz na mojego Skype gdzie będziemy rozmawiać. Nazwę na Skype proszę podawać na priv.

 

To tyle z mojej strony

Novigrad (nwm czy dobrze)

Discord mam kilka pytań dotyczących Chaousu. 1. Czemu nie unicestwiłeś twillight przecież masz moce chaosu. 2. Czy dalej płynie w tobie zło?. 3. Czemu nie wyczarujesz sobie czegoś przeciw "Magii Przyjaźni". 4. Czemu przyjaźnią dzielisz się głównie z Fluttershy. 5. Co sądzisz o patyko-wilkach. Czy są zagrożeniem lub czy one są zagrożone. Ps. Moce chaosu nie powinny służyć do zabawy i nie jesteś Panem chaosu.

kapi replied to topic's Arkon.fallout in Kapi

Ej ją jestem Mroczny Kieł

Arkon.fallout

changed their profile photo

Ej zejdź ze mnie ok nic ci nie zrobiłem a ty na mnie jeździsz bez końca gdziekolwiek się pojawi mój temat albo coś związanego ze mną . Człowieku o co ci chodzi ? Dzięki i miło cb poznać

Ok dzięki jestem tu nowy i jeszcze nie ogarniam forum ale z czasem się nauczę

Talar replied to topic's Arkon.fallout in Off-topic

Ja na telefonie mam piosenkę Linkin Park Lost In The Echo:

Rory Mercury replied to topic's Arkon.fallout in Gry i zabawy

Brony Gamer replied to topic's Arkon.fallout in Steam

Ja z chęciom nazwa : arkon-minecraft Gram w TF2 i pogadam z chęciom

No to teraz jest proste i dzięki ci za wszystko Witam cb też . Ok wybacz że późno ale mam kilka prac w trakcie i przed sobą co do twoich pytań zacznę od początku : . 1. W sumie Discord bo ma moce chaosu (ale według mnie źle ich używa) ale że jest teraz dobry to jak najbardziej Król Sombra ponieważ miał potężną moc. 2. Taką i taką w sumie zaskoczyło mnie (tak jak jej przyjaciółki) to że ma skrzydła i od razu wiedziałem że jest coś nie tak w tym odcinku jak wszystko opowiadała jej Celestia. 3. Rysować lubię Kucyki ale nie za bardzo mi to wychodzi więc wolę pisać FF-y . A czemu pytasz ?