Content Count

8

Joined

Last visited
Community Reputation
6
Neutral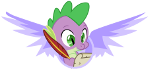 About DianaChSph
Rank

an angel (she/her)


Birthday

06/13/2004
DianaChSph

changed their profile photo

Wyłączyłem AdBlocka, dalej nie działa.

Tylko że jestem adminem danego serwera.

Klikam w link, wybieram swój serwer, klikam przycisk z napisem ,,Autoryzuj'', wchodzę na swój serwer i bota tam nie ma, to ja coś robię nie tak czy problem jest z linkiem?

Dabrowski replied to topic's DianaChSph in Strategie

Gra już teraz jest nawet dobra lecz wciąż pozostaje dużo do poprawy, na przykład konferencje pokojowe to w porównaniu do Europy Universalis 4 jakiś żart, nie mówiąc o czasami kuriozalnym działaniu AI, jest też marginalność lotnictwa i marynarki wojennej i mógłbym tak długo wymieniać. Jednakże gra się w to pomimo wad całkiem dobrze, na tę chwilę to daję mocne 7/10 i mam nadzieję na poprawę po nadchodzącej aktualizacji i DLC. A tak przy okazji, gra tu ktoś na modzie ,,Equestria at War''?

Nadzieja na kontynuacje tej powieści wciąż pozostaje w mym sercu.

Związek Socjalistycznych Republik Radzieckich

DianaChSph replied to topic's DianaChSph in Na start...

Ostatnio trochę gram w gry z serii Total War, lubię też gry od Paradox Interactive, z serii Heroes pomimo iż zacząłem od 2 to najbardziej mi do gustu przypadła 4 część, podobnie z Civilization.

Witajta. Jam jest Aorion. MLP:FiM interesuję się od pewnego czasu, a dokładniej od około 2 lat, lecz samego serialu w tej chwili nie oglądam ale może znowu zacznę, na tę chwilę obejrzałem wszystkie sezony do 6. O fandomie dowiedziałem się trochę przed tym jak zacząłem oglądać serial. Po za tym lubię grać w gry strategiczne i interesuję się wieloma rzeczami. Zapraszam do zadawania mi pytań.

DianaChSph replied to topic's DianaChSph in Na start...

0. Konto założyłem chyba miesiąc temu. 1. Przeglądałem se Nonsensopedię i na końcu artykułu był odnośnik do Polskiej wiki z napisem ,,Gdybyś nie daj Boże chciał się dowiedzieć czegoś więcej''. Kliknąłem w odnośnik i wylądowałem na wiki. Po przeglądnięciu 1/5 wiki obejrzałem pierwszy odcinek, a potem kolejne dwadzieścia. 2. Introwertycy podobno zyskują energię gdy są sami a zużywają ją gdy są wśród ludzi, do mnie ten opis pasuje. 3. Nie, po prostu tak twierdzę. 1. Tak. 2. Ostatnio mało czytam ale swojego czasu przeczytałem całą trylogię ,,Eragon'', wszystkie tomy ,,Harrego Pottera'' oraz wszystkie tomy ,,Opowieści z Narnii''. 3. Chodzi o śmigłowce czy rysie stepowe?