Content Count

991

Joined

Last visited

Days Won

1
Community Reputation
165
Great and Powerful Reputation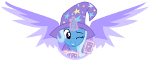 About pepeh
Rank

Członek Armii Fluttershy


Birthday

09/05/1993
Informacje profilowe
Gender
Miasto
Zainteresowania

Mlp, muzyka:Tenaciuis D,Three Days Grace,Black Veil Brides i kilka innych rockowych/metal bend'ów.

Ulubiona postać

Fluttershy Rarity Applejack
Typowy film familijny ,nie można się spodziewać że będzie trwał 2h+.Wszystko zależy od realizacji wiadome było że film będzie trwał 60~90 min. Oczywiście mogliby zakończyć film tak aby zrobić potem część 2.Jednakże film ten ma być przedsmakiem serialu więc dziwnie by ro wyglądało.

Obejrzane jak dla mnie spoko. Nie wydaje mi się, żeby było coś do czego można byłoby się doczepić.

Jeśli chodzi o mój to ING,ale nie tylko tam można zrobić. Sorki,że tak późno,ale rzadko wchodzę.

Udało się,tak jak mówiłem

Ktoś coś jeszcze podrzuci? Ma ktoś coś ciekawego?

W ING podali niby 748 pikseli x 480 pikseli ze wcześniej używana grafika była 1024 x 576.Coś tam próbowałem,ale z marnym skutkiem.

Tak sobie popatrzyłem i ten ich generator ING to bidny jest nie dość,że podana przez nich wielkość grafiki jest zamała eby pokryć całą kartę to jeszcze nie mają u siebie opcji automatycznej się też nie skaluje. PS. Czekam dalej na grafiki jakby ktoś miał.

Ja dałem z Pinkie Pie i jakoś przysłali

Witam. Z racji iż niedługo wygasa mi ważność karty płatniczej postanowiłem wybrać inną grafikę niż obecną. Ma ktoś jakieś fajne grafiki (bez napisów) Z Fluttershy,Pinkie Pie,Rarity albo Applejack. Pozdrawiam.

Uszatka replied to topic's pepeh in Sezon IX

Jak dla mnie odcinek zbędny,I to jeszcze w Moim odczucie LGBT z Applejack i Rainbow Dash.

Niklas replied to topic's pepeh in Sezon IX

Jak dla mnie ok,wątek Discorda udającego Grogara trochę dziwny w sumie.Od jego przemiany minęło dość dużo czasu (jakoś w 3 sezonie o ile się nie mylę).Jakoś nie był w stanie się ogarnąć i coś musiał odwalić.Ale chyba z racji,że dalszego ciągu nie będzie to chyba w sumie znaczenia nie ma. Trochę męczące trochę też było "Twilightowanie".Kurdę no albo się ogarnia i stwierdza,że nadaje się i chce być tym obeylordem,albo panikuje.

Akurat widać,że ten był najmniej dopracowany,ale jakbyś zobaczył przeciętnego skina do WOT"a to byś zmienił zdanie. A co do tego,że jest po angielsku to mogę dać po polsku jak Wam źle.

My Little Pony Skinpack brings 5 unique high quality "My Little Pony" skins made by Ketrab8. It features: T-34-85M Pinkie Pie skin, IS-3 Princess Luna skin, Löwe Applejack skin, Object 277 Rarity skin, E-100 Rainbow Dash skin; Skin contains emblems, cutie marks and camo which fits to ponies' colors. Link:https://wgmods.net/1768/ Screeny: Jeśli ktoś gra w WOT'a to myślę,że się spodoba.Również jeśli mod się przyjmie to jest spora szansa na dodanie większej ilości QŃi i większej ilości czołgów.