Content Count

981

Joined

Last visited
Community Reputation
160
Great and Powerful Reputation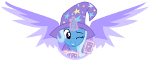 About pepeh
Rank

Członek Armii Fluttershy


Birthday

09/05/1993
Informacje profilowe
Gender
Miasto
Zainteresowania

Mlp, muzyka:Tenaciuis D,Three Days Grace,Black Veil Brides i kilka innych rockowych/metal bend'ów.

Ulubiona postać

Fluttershy Rarity Applejack
Akurat widać,że ten był najmniej dopracowany,ale jakbyś zobaczył przeciętnego skina do WOT"a to byś zmienił zdanie. A co do tego,że jest po angielsku to mogę dać po polsku jak Wam źle.

My Little Pony Skinpack brings 5 unique high quality "My Little Pony" skins made by Ketrab8. It features: T-34-85M Pinkie Pie skin, IS-3 Princess Luna skin, Löwe Applejack skin, Object 277 Rarity skin, E-100 Rainbow Dash skin; Skin contains emblems, cutie marks and camo which fits to ponies' colors. Link:https://wgmods.net/1768/ Screeny: Jeśli ktoś gra w WOT'a to myślę,że się spodoba.Również jeśli mod się przyjmie to jest spora szansa na dodanie większej ilości QŃi i większej ilości czołgów.

Witam. Temat poświęcony wrażeniom z Iniemamocnych 2 bo sądzę,że większość z Was była/będzie oglądać. Jak dla mnie bardzo dobrze zrobione,a w porównaniu do pierwszej części o wiele lepiej wygląda.Ale jak wszyscy wiedzą przez 14 lat technologia poszła bardzo do przodu to nie ma co się dziwić.Reszty rzeczy według mnie nie ma co pisać bo tak samo dobre jak w jedynce. Dobrym przykładem jest końcówka filmu trzeba mieć tylko nadzieje,że nie skończy się to tak samo jak z pierwszą częścią i że na trzecią trzeba czekać drugie 14 lat.

No nie do końca jak ma być V generacja.

50 minutowy spacial? Raczej 3 minutowa piosenka.

DJ Pon 3 Vinyl Scratch replied to topic's pepeh in Na start...

Pony-con 2018 w Nottingham.Pojechałbym ale za drogo.

Autor:Coinpo Art by:assasinmonkey

Trochę mnie na forum nie było,więc sobie nadrobię i nabije 1 posta. Art by:sverre93

WOW jeszcze tylko tydzień kiedy w końcu sobie zobaczę. Szybciej będzie sezon 8 niż short sprzed miesiąca.