Content Count

139

Joined

Last visited
Community Reputation
16
Neutral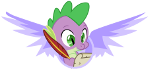 14 Followers
About McKeyPL
Rank

Pan dysharmonii (na starym forum)


Birthday

04/17/1997
Kontakt
Strona www
Skype
Gadu-Gadu
Informacje profilowe
Gender
Miasto
Zainteresowania
Ulubiona postać

Octavia z Twilight. Choć reszta też jest fajna
Nie wzruszaj ramionami bo posty od tego nie wrócą XD Jak Ci się będzie nudzić po świętach to pogrzeb dlaczego tak się stało a ja IDE do webarchive i zobaczymy czy tam się ostało coś. @Edit Klikając w ten link też ciekawe rzeczy się dzieją

Ostatnia edycja jest 5 dni po publikacji tematu... Dolar mi świadkiem że sam odpinał temat i tam wszystko było kiedy sprzątał dział więc na pewno nie usuwałem tam nic...

Ki uj? Nie usuwałem postów swoich... A na pewno nie z tej biblioteczki bo temat się spodobał ludzią.

"zabezpieczenia mojego konta nie zostały złamane" jeżeli o to chodzi Ostatnia edycja jest moja ponieważ iż że dodawałem pewnie kolejną książkę do biblioteki. Da rade to odtworzyć przynajmniej linki a potem się zobaczy. Fakt faktem projekt "ómarł" ale jednak coś tam jest... cc:@Decaded @Siper Coś wiecie na temat znikających postów?

Składam ***** zażalenie że ktoś się nie bał i pod***** mi treść posta ... Dostałem od dobrego ziomka znajomego że nie ma to pisze że nie ma. I nie, nie usuwałem nic ja

I'm a level 14 (just 3 mln AP short of L15) Enlightened player. I was playing together with my husband and friends almost since the beginning of Ingress (December 2012). During Interitus in Kraków I was one of the operators. Some time ago my Samsung Galaxy S4 had been stolen, so I've got a new phone – a Xiaomi Redmi Note 4. Last Thursday (September 22nd) I used it for longer Ingress action (longer than hacking a few local portals) for the first time – and the last one, as Ingress stopped working quite soon. On returning home I found a message from NIA in my mailbox, saying that my account has been terminated. Only then I learned that Xiaomi phones are known to have problems with GPS that NIA erroneously recognizes as cheating. I never intentionally broke ToS, and I feel I have been treated unjustly.
I have already filled an account review request (ticket number 268337). Please reinstate my account.

To był turniej osu! a nie karaoke

Ja bede miał swoją ale chyba tylko do prywatnego streama czy coś. A dodatkowe kamery 720/1080p się załatwiają. Gorzej z nadajnikiem bo ja w lapku nie mam wejścia HDMI tylko iLink/FireWire/1394 a to też jest z tym problem. No ale stawiam na audio a video dostarczy ktoś inny... Mam nadzieje...

To fajnie że ktoś mnie tu pamięta. Takiego randoma. @Accu ja bede nagrywać raczej z głównej sali + ewentualnie jakieś dziwne rzeczy tak więc będziesz mógł szaleć. Dodatkowo na głównej sali będe zgrywał audio do filmu na DVD tak więc nie wiem jak będe leciał z innymi ewentualnie salami.

CelestiaSunrise może nie działać z najnowszą wersją gry. Edytor wymaga roota. Pamiętaj aby zawsze zrobić backup. (pokazywałem jak jakieś 15 stron temu łącznie ze screenami).