Content Count

167

Joined

Last visited
Community Reputation
57
Bardzo dobra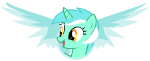 About Tangerine
Rank

Kot brytyjski


Birthday

03/17/2002
Informacje profilowe
Gender
Miasto
Zainteresowania

Muzyka, książki, rysowanie, gry karciane, brytyjskie seriale.

Ulubiona postać

Twilight! To po pierwsze, poza tym :
- Fluttershy
- Rarity
- Sunset Shimmer
Wchodzę na forum, patrzę i widzę taki piękny i pomocny komentarz. Dziękuję panu powyżej za wiele przydatnych rad, do których postaram się zastosować w przyszłych pracach. Dynamiczne postacie to właśnie mój ciężki orzech do zgryzienia, jeśli chodzi o rysowanie, Dzięki za wskazanie tego Poślę moje kuce do najlepszego fryzjera w dzielnicy, zobaczymy co się da zrobić.

Tak właśnie myślałam, że ten styl jest właśnie najciekawszy. A co do requestów - może.

Post pod postem powraca. Szybki szkic, który zrobiłam w szkole a potem pokolorowałam na komputerze. Kucyk-android, bo dlaczego nie.

Spory update jest spory. Widać, że z każdą kolejną pracą idzie ci coraz lepiej. Czy to cieniowanie, czy to anatomia, do niczego się nie mogę przyczepić PS. Dzięki za polecenie Krity. Wypróbuję, skoro tak polecają

Prezent na urodziny przyjaciółki i moja pierwsza praca pozbawiona konturów

Taka sytuacja była, że przez 2 miesiące nie rysowałam kuców przez zepsuty laptop, ale w międzyczasie nie zapomniałam kompletnie jak się rysuje Jakimś magicznym sposobem jeszcze umiem, a że komuś się podoba to już sukces

Post pod postem pod postem? Niech będzie. Ten oto konik to moja stara OC, Wind Drop :

Poprzedni sposób cieniowania był chyba lepszy, ale to tylko moje zdanie Kolejna świetna praca ( tylko te kopytka jakieś takie zbyt owalne ).

Jabłkowy cukierek w kształcie gnijącego brokuła? Niech będzie.

Rzeczywiście, ogon wyszedł chyba najkształtniej

Szkoła mocno, nauka dużo. Na rysowanie mam teraz strasznie mało czasu Mimo to podjęłam się wyzwania narysowania grzywy Rarity.

Historia za tym obrazkiem jest następująca : Tata wchodzi do mojego pokoju, pyta się co robię. Ja na to, że rysuję. Więc on, prosi, żebym narysowała Epuldzik. I jabłko. Bo Epuldzik to taki pomarańczowy kucyk co lubi jabłka. Tak.