 Content Count

5

Joined

Last visited
Community Reputation
1
Neutral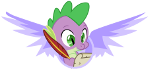 About Brony
Rank

Szalona Klacz


Birthday

05/03/2005
Informacje profilowe
Gender
Miasto
Zainteresowania

Gra na kompie, rysowanie, taniec

Ulubiona postać

Księżniczka Luna, Rarity, Królowa Chrysalis, Discord, Derpy
Kiedy Twilight nocuje w zamku Canterlot Flash idzie rano do kucharza, i prosi o możliwość dostarczenia śniadania najmłodszej księżniczce Eqestrii w celu dodatkowej ochrony. Bierze śniadanie i puka. Wchodzi za zgodą Twilight. - Przyniosłem waszej wysokości śniadanie. Ale najpierw muszę sprawdzić, czy nie jest zatrute. Flash bierze gryza, i pada martwy XD mówi: - Mmm... pyszne, radzę spróbować. Dalej rozmawiają.

Księżniczko Luno, Padam do nóżek 1. Z jakiego gatunku są twoi strażnicy? 2. Czy Flutterbat albo Sombra są z gatunku twoich strażników? 3. Opowiesz coś o kucykach morskich?

1. Masz chłopaka? 2. Pojawisz się w serialu? 3. Czy to prawda, że Discord chodzi z Celestią?

Nightmare replied to topic's Brony in Changea

Może tak: Chrysalis była alicornem, córką Króla Sombry i Księżniczki Platinium. Sombra miał też drugą córkę, Cadance. Kiedy mama Cadance i Chrysalis umarła, Sombra i Chrysalis pogrążyli się w mroku. Cadance nie uważała tego za słuszne i uciekła do Celestii i Luny. Sombra podbił Kryszałowe Królestwo i część ludu oddał Chrysalis. Ona zamieniła ich w podmieńce. Niedługo potem Sombrę pokonały Celestia i Luna, a Chrysalis uciekła.