Content Count

21

Joined

Last visited
Community Reputation
9
Neutral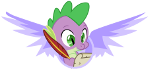 About Thorig
Rank

Naczelny Suchoklates

Informacje profilowe
Gender
Miasto
Zainteresowania

Braeburned ( ͡° ͜ʖ ͡°), końskie bajki, zwalczanie fanów Smellsa i RHCP, spoht, muzyka, płakanie nad biednym losem mego miasta.
Lis i pies Ed: Wyprzedzili :c

Figurki figurkami, ale najgorsze jest popularyzowanie robienia z Katolicyzmu religii politeistycznej. Niektórzy(no nawet dużo) ludzie bardziej wierzą w Jana Pawła II i Maryję niż w cokolwiek innego, a chyba nie w tym sens. Tak samo ze świętymi; na co to nadawanie im opieki nad kierowcami/strażakami itp? No sorrki, mi to trochę przypomina starożytną Grecję i Rzym, bo tam też mieliśmy bogów od wszystkiego. Nie, nie jestem jakimś gimboate/wierzę w Boga, nie w Kościół tylko nieco czasem jestem tym wszystkim zniesmaczony.

Wszystkie "hity" naszych czasów znane z jutubów i puszczane na okrągło w radiach. Gang Albanii, PSY, "Dzień dobry, kocham cięęę" i reszta podobnych gwiazdek z Eweliną Lisowską na czele No i Red Hot Chili Peppers

Secretly we are gay ( ͡° ͜ʖ ͡°) A tak na poważnie... Jeśli nie ironizujesz to chodziło mi o lud, którego motto jest właśnie "Ju onli lajw łans". Byłoby wszystko spoko, gdyby nie chodziło tu głównie o nadmierne spożywanie alkoholu (no kurde, nawalać się regularnie w gimnazjum nie jest cool), palenie fajek na potęgę i resztę, a jak mamusia okrzyczy to JOLO HEHE. Jak to mój funfel kiedyś powiedział "ludzie ogórki" xD nie wiem jaki to miało sens, ale brzmi ambitnie a o to też chodzi.

Octavia jest świetna :3 Nie przestawaj rysować, bo masz bardzo miły styl. Czekam na kolejne bardzo.