Content Count

371

Joined

Last visited

Days Won

3
Community Reputation
191
Great and Powerful Reputation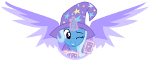 15 Followers
About Lyokoheros
Rank

Forumowy Apologeta


Birthday

01/20/1996
Kontakt
Strona www
Skype
Discord ID
Informacje profilowe
Gender
Miasto
Zainteresowania

Kod Lyoko, MLP, gry, szeroko pojęta fantastyka, pisarstwo

Ulubiona postać

Sunset Shimmer, a także w pewnym stopniu większość postaci, ale pośród nich szczególnie Celestia.
Single Status Update
Ech, kurcze nie sądziłem, że zastój w mojej twórczości tak długo będzie trwał... ale cóż, czasem są takie sytuację... choć niedługo się on mam nadzieję zakończy. 

Właściwie to miałem nadzieję, że najpóźniej dziś pojawi się kolejny rozdział NMS... niestety się przeliczyłem.

A liczyłem na to, bo na moim Lyokowym Discordzie odbywa się - inspirowana Klubem Konesera - bitwa opowiadań. I jutro (no właściwie już dziś) o 18.00 odbędzie się bitwa w której udział wezmą "Code Cortex" oraz... właśnie "Nasza Mała Sunset"! 

(Sam "Code Cortex" nie jest wybitnie długi, więc myślę, że każdy chętny swobodnie da radę przed starciem a nawet w trakcie parę rozdziałów przeczytać i się zapoznać.)

 

Dodam też, że jednak pewne drobiazgi się w tym czasie w NMS pojawiły, to znaczy w ramach Lyokowego Kalendarza Adwentowego (który też po części był powodem spowolnienia, w dodatku sam miał obsuwy...) stworzyłem miniaturkę pt. "Ku pamięci" (wersje docsową póki co znajdziecie jedynie w zbiorczym pliku opowiadań z kalendarza) zaś Midday Shine podczas mikołajkowego pisania na setkę napisała piękne opowiadanko rozgrywające się w tym uniwersum pt. "Nic cenniejszego".