Content count

9

Joined

Last visited
Community Reputation
26
Good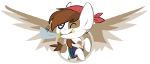 About TapczanZaglady
Rank

Źrebaczek


Birthday

08/17/2000
TapczanZaglady replied to JackNaifu's topic in Na start...

KOPYCIO , witaj na forum,, życze kopycianego korzystania z forum i wogóle to żeby było kopytnie

TapczanZaglady

changed their profile photo

Przedstawiam wam humorystyczny fanfik autorstwa mojego i @ClearFog oraz w roli korektora wystąpił szanowny pan @Szonszczyk.Jest to ulepszona wersja pracy @iCzaRez (halina-zapasz-mi-meliske) https://docs.google.com/document/d/16FiLBLseEGUmZ1v0cWVOxn7BRC50dKI96zZKgxmh2_M/edit?usp=sharing

TapczanZaglady replied to Szonszczyk's topic in Archiwum

Zapisuje się do drużyny Thoraxa -spinz.io -Minecraft (może nie do końca darmowy ale wiadomo jak to z nim jest) -Armored Warfare -Osu (nie umiem w to grać ale czemu by nie zagrać) -Unturned -Warframe -Evolve Stage 2 -War Thunder -PlanetSide 2 -Warface -Loadout

TapczanZaglady replied to iCzaRez's topic in Na start...

Witaj na forum mam dla ciebie kilka pytań. 1.Jaka jest twoja ulubiona postać 2-3 planowa. 2.W jakim mieście chciałbyś zamieszkać gdybyś był kucykiem. 3.jaki mebel z mlp ci się najbardziej podoba.

TapczanZaglady replied to Churchille's topic in Gry i zabawy

wchodź od razu jak mnie widzisz im więcej osób tym fajniej.I będę pamiętał żeby na niego uważać. Ja też mam nadzieje że zostanę jak najdłużej i raczej stąd nie odejdę .Equestria girls nawet lubię ale nie mam swojego ulubionego odcinka. 1. Nie potrafię za bardzo określić jednego więc postanowiłem wybrać trzy które mi się najbardziej spodobały (oczywiście z tych które przeczytałem). -Projekt Lazarus -Ostatnia rzecz jaką zrobi -Orzeł Biały a mógłbyś może polecić jakiś według ciebie fanfik który powinienem przeczytać, akurat nie mam co czytać 2.Kuce. 3. 4.Tapczany są bardzo uczuciowymi meblami nie tak jak biurko które nie ma uczuć i na którym możesz kłaść wszystko. Kiedy wchodzisz do sklepu z tapczanami to możesz poczuć się jak w schronisku, wszystkie chcą zostać przygarnięte. Ale nigdy nie kupuj już oswojonego przez kogoś innego ponieważ strasznie przeżywają rozłąkę ze swoją ludzką rodziną i taki tapczan już nie będzie chciał więcej nikogo poznać i będzie powoli umierał w samotności.

1.Takie tam problemy z pamięcią 2.W sumie to nie wiem jakiś random z diskorda 4.Bardzo ale nie chce mi się go robić nigdy, muszę więc opanować sztukę robienia go w mikrofali 5.Sam nie wiem dosyć często mi się to zmienia na ten moment jest nim Trixie 6.Według mnie zagłady brzmi najlepiej 7.Mam własny przykro by mu się zrobiło gdybym kupił nowy (są strasznie zazdrosne) 8.Pewna osoba akurat wpadła na pomysł żeby mi powiedzieć żebym to zrobił

1.Nie mogę sobie przypomnieć więc nie odpowiem na to pytanie. 2.Szonszczyk 3.Thorax 4.Ponieważ lubię meble

Witam.pierwszy raz w końcu od kiedy tu jestem postanowiłem coś dodać na forum i trochę bardziej być aktywnym.Poznałem już kilka osób z forum (tylko na discordzie). Do końca nie wiem co napisać więc może standardowo opowiem krótko o sobie. kucyki oglądam od nie jestem pewien ale tak z trochę ponad 3 lata. Lubię czytać i słuchać fanfików podoba mi się najbardziej TCB.

TapczanZaglady replied to Szonszczyk's topic in Archiwum

Spotkała pijaną Molestię i ta przedziurawiła ją swym rogiem żeby mogła nosić trolestii wincyj bananów.