Content Count

6

Joined

Last visited
Community Reputation
8
Neutral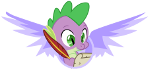 About Insanus.AD
Rank

Inkwizytor


Birthday

11/26/1997
Informacje profilowe
Gender
Miasto
Zainteresowania

Technika (elektronika, robotyka, informatyka, programowanie), Muzyka (Slamming Brutal death metal, Technical Brutal death metal, Brutal death metal, Death metal, Brutal Deathcore, Deathcore) i te małe kolorowe koniki.

Ulubiona postać

#1 Princess Luna
#2 Rarity, Glim Glam
Insanus.AD

changed their profile photo

Oto krótka historia bezsilności, strachu, bólu i krzyku, którego nie usłyszał prawie nikt. Osamotnienia wśród gęstego mroku i sidłach z których nie ma ucieczki. Pytań na które zabrakło odpowiedzi. Uwaga: Fanfic zawiera sceny szczególnego okrucieństwa oraz wulgaryzmy i jest niewłaściwy dla wrażliwego czytelnika. Link: https://docs.google.com/document/d/1yA2G7rVAMcPftn19n0osO5Q7cYm1pDKrui8Ze_wznHw/edit?usp=sharing Prace nad opowiadaniem wciąż trwają. Opowiadanie może zostać nieznacznie poszerzone, w celu wyjaśnienia pewnych wątków. [Edit 31.03.2020 : Nie, jednak nie.] Możliwość zostawiania komentarzy i sugestii na dokumencie jest po to by z niej korzystać w przypadku znalezienia błędów, o co też bym prosił Miłej lektury.

Flim i Flam sami są sobie winni, ale nie biedna Marble.Spójrzcie tylko na nią. Czy tylko mi jest jej aż tak szkoda?

Jakoś nie jest mi szkoda ani Flima, ani Flama. Niszczy ich fakt że nie potrafią wyciągać wniosków i powtarzają wciąż te same błędy licząc na inny rezultat, próbują wzbogacić się koniecznie na cudzym nieszczęściu. Mi się zrobiło szkoda biednej Marble Pie. Tyle bólu w jednej krótkiej scenie...

Ej! Też macie wrażenie że Flim i Flam wciskający kompletny badziew za ogromne pieniądze, mówiący że jeśli coś jest drogie to jest dobre i prestiżowe, to odwzorowanie firmy Apple?

The Silver Cheese replied to topic's Insanus.AD in Muzyka

W muzyce fandomowej MLP brakuje mi czegoś takiego jak to: https://www.youtube.com/watch?v=KZbAaNCagME

Niklas replied to topic's Insanus.AD in Sezon VIII

Mam silne wrażenie że morał odcinka to: "Zrobienie sobie krzywdy nie rozwiąże twoich problemów emocjonalnych. Porozmawiaj z kimś o nich."