Content Count

60

Joined

Last visited
Community Reputation
7
Neutral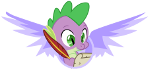 About Yuna
Rank

Master of Disaster


Birthday

06/09/1994
Informacje profilowe
Gender
Zainteresowania

Kultura azjatycka, rysowanie, książki fantasy, animacja Disney/Pixar.

Ulubiona postać

Luna, Twilight Sparkle, Fluttershy, Rarity, Cadance, Discord, Vinyl Scratch, Apple Bloom.
kapi replied to topic's Yuna in Kapi

Więc zwycięstwo. Gypsy zostawiła broń i ostrożnie podbiegła do nieznajomego, starannie omijając płomienie oraz leżące tu i tam kawałki czegoś nadpalonego, co prawdopodobnie należało kiedyś do smoka. Ogier żył, lecz jego oddech był bardzo nierówny. Jedna czy dwie paskudne rany na lego ciele przyprawiły Gypsy o dreszcz. Nie za bardzo wiedziała jak należy się zachować w takich momentach. Życie nauczyło ją dbania o własny tyłek, jednak w tym momencie czuła, że za nic w świecie nie zostawiłaby go tutaj na pastę losu. "-Przepraszam." - rzekła, po czym chwyciła jego kopytko i spróbowała go podnieść.

zamknęłabym szafę co byś zrobił, gdybyś odnalazł w swojej szafie przejście do innego świata?

Nie raz nie dwa Widziałeś zespół pieśni i tańca?

Tak ( kto nie? ) Masz grę monopoly?

kapi replied to topic's Yuna in Kapi

Wtedy koza zdała sobie sprawę, że od kilku minut stoi ze szczęką rozwartą ze zdziwienia. Może nie była odpowiednio wykwalifikowana w zakresie medycyny, ale przecież żaden kucyk nie byłby zdolny przeżyć takiego ataku. Żaden zwykły kucyk. Poczuła coś w rodzaju podziwu do nieznajomego. Uznała, że może mu zaufać, dlatego dostosowała się do jego prośby i ostatnia strzała jaką zamierzała posłać została wymierzona w lewe oko stwora. Mam małe pytanie - czy mogę nawiązywać do tego co piszesz przedstawiając zdarzenia z perspektywy mojego bohatera, czy raczej kontynuować historię?

Obojętnie, nie wiem co to xD Chipsy czy popcorn?

Poszłabym na spotkanie Co byś zrobił, gdybyś mógł przenieść do rzeczywistości dowolny wymyślony przedmiot?

Minish, Hero of the Storm replied to topic's Yuna in Gry i zabawy

"-Mówię do ciebie, a ty bawisz się moimi włosami"