Content Count

6

Joined

Last visited
Community Reputation
17
Neutral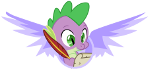 About Angela
Rank

Zwykła mieszkanka Ponyville


Birthday

January 5
Kontakt
Strona www

https://www.youtube.com/channel/UCKxb0xNLavkFpqd9OcEFh6Q/videos?view_as=subscriber
Informacje profilowe
Gender
Miasto
Zainteresowania

Lubię rysować jednak moją pasją jest śpiew <3 Kolekcjonuję również figurki My Little Pony jednak nie z tych nowych wersji.Prowadzę również kanał na youtube z coverami i fandubami.

Ulubiona postać

Applejack Fluttershy Sunset Shimmer Discord Spike
Haha baardzo mi miło za przyjęcie ;3 hmm no to teraz odpowiedzi: 1. Tak mam na imię Angela - właściwie Angelika ale wolę skrót. 2. Szczerze? sama nie mam pojęcia xD dopiero teraz jakoś też się natknęłam na ten temat w forum i jakoś tak wyszło 3. Tak - jak najbardziej oglądam wszystko co z mlp xD jednak osobiście wolę te sezony 1-4. Co do 5-9 hmm sama nie wiem - są spoko ale też jakoś nie przepadam za Starlight. No a od 6 sezonu przecież jest jedną z tego pierwszego planu. W 1-4 każdy odcinek zawierał jakiś morał.... teraz może i są ale jednak tam było to takie bardziej oczywiste i przejrzyste - listy do celestii, dziennik itp I w ogóle zaczełam mlp lubić w 2011 czyli gdy miałam 6 lat- kucyki to moje dzieciństwo i zawsze ze mną były iii w sumie może dlatego też wolę te starsze sezony XD 4. Tak - Applejack i Sunset Shimmer. 5. Wiesz - wydaję mi się że nigdy nie jadłam ale babeczki lubię Coo do głosuu to już tak nie przesadzaj Pozdrawiam również

Wczoraj oglądałam special i uważam że był super jednak... myślałam że wątek syren będzie bardziej interesujący. W sumie to troche tak jak z chrysalis w sez.8 odc 13 - też myślałam że będzie ten wątek bardziej rozwinięty. Niemniej jednak bardzo mi sie odcinek podobał

hah - w sumie to nagrywam bez mikrofonu - dyktafonem w telefonie a potem to przegrywam na komputer. Jakoś sobie radzę ale mam w planach kupno nowego - w zasadzie pierwszego. Miałam mieć mikro już w zeszłym roku ale po kilku wymianach oddali mi pieniądze bo coś nie działały :/ No ale dobra - spróbuję odszumić - dzięki za radę

tak - mam kanał. Nie mam jakiegoś "super głosu" ale uczę się i sprawia mi to frajdę. I tak - mogę dać link - w sumie to mogę na profil.

Hejka! W sumie to mam konto od jakiegoś czasu ale nie udzielałam się. Dopiero dzisiaj postanowiłam że coś napiszę. Wobec tego - na początek przywitanie Kucykami interesuję się w sumie od początku 4 generacji. Jednak dużo bardziej wolę pierwsze sezony i na jedno się cieszę że koniec 4 generacji - według mnie już dawno pomysły u Hasbro się skończyły i teraz to jest trochę naciągane - a z drugiej niezbyt bo czuję jakby coś się zakończyło. Cóż - co mogę powiedzieć? mam nadzieję że miło tu spędzę czas

Witaj! Życzę Ci miłej zabawy Sama w sumie jestem nowa więc pomóc Ci tu niestety niezbyt pomogę. Ale jakbyś chciał popisać to śmiało. Może powiesz np. co lubisz robić?