Content count

165

Joined

Last visited
Community Reputation
145
Great and Powerful Reputation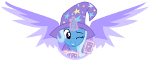 17 Followers
About Jakubas18
Rank

Pegazi Lotnik Wonderboltsów


Birthday

05/22/1999
Kontakt
Strona www

https://www.youtube.com/channel/UCbNn5g-Rgl6xv6DHa9EcO2Q/featured?view_as=subscriber

Facebook
Instagram

https://www.instagram.com/jakubas19/
Informacje profilowe
Gender
Zainteresowania

Uwielbiam grać na komputerze, lubię rysować i słuchać muzyki

Ulubiona postać

Applejack, Rainbow Dash, Scootaloo, Trixie, Zecora, Sunset Shimmer, Lyra Heartstrings, Księżniczka Luna, Thorax i Król Sombra
Wszystkiego najlepszego z okazji twoich urodzin Cheerful Sparkle!

1

Yhm..fajnie że wrzuciłeś i nawet podoba mi się to ale...czy tylko Heroes 3 będzie?

Jakubas18 replied to marcinkulaga's topic in Na start...

Witaj i baw się dobrze na forum!

Nom, extra! Znaczkowa liga do boju!! Apple Bloom: Sweetie Belle: Scootaloo: Miau, miau.

Muzyka bardzo przyjemna, spokojna i wciągająca do gry serii Heroes:

Witam, w tym temacie każdy będzie mógł się udostępniać postacie z gry serii Heroesów, oryginalnie ale nie tylko..mogą być też to jako kucyki i kiriny.Więc ja zaczynam jako pierwszy: Paladyn(oryginał z gry): Paladyn(jako kucyk): Elf(oryginał z gry): Elf(jako kirin): Czarci Lord(oryginał z gry): Czarci Lord(jako kucyk): Wampir(oryginał z gry): Wampir(jako kucyk):

Witaj na forum Defiler! Czy wpadłbyś na mój kanał yt?

Kilka piosenek fajnych, polecam!

Nowy obrazek mojego OC'a, bardziej wyrazisty:

Śnieżne, masz na myśli "Kronverk" chyba. Myślę że ostatni zamek będzie napewno śnieżny, ale to jeszcze się zobaczy co tam twórcy wymyślą.

Oh yeah!W następnej aktualizacji Hota pojawi się kolejny zamek, Faktoria bazowany na dzikim zachodzie. To jest już drugi zamek w Hotcie, ciekaw jestem...jaki będzie ostatni(trzeci chyba)? Oto moje 3 propozycje na ostatni zamek: - Warownia, miasto krasnoludów z AvLee którzy osiedlili się w górach na północy w Bracadzie. - Iglica, miasto śnieżnych elfów którzy zamieszkują ośnieżoną wyspę Vori. - ???, miasto mrocznych elfów, to elfy które się zbuntowały i zamieszkują podziemia. Na nazwę zamku mrocznych elfów nie mam pomysłu. A co do krasnoludów..to w Bastionie mogli by nimi zastąpić hippogryfy albo tygrysy? Hm..