Content Count

158

Joined

Last visited

Days Won

1
Community Reputation
129
Great and Powerful Reputation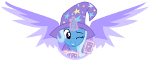 18 Followers
About Jakubas18
Rank

Pegazi Lotnik Wonderboltsów


Birthday

05/22/1999
Kontakt
Strona www
Facebook
Instagram

https://www.instagram.com/jakubas19/
Informacje profilowe
Gender
Zainteresowania

Uwielbiam grać na komputerze, lubię rysować i słuchać muzyki

Ulubiona postać

Applejack, Rainbow Dash, Scootaloo, Trixie, Zecora, Sunset Shimmer, Lyra Heartstrings, Księżniczka Luna, Thorax i Król Sombra
Recent Profile Visitors
The recent visitors block is disabled and is not being shown to other users.
Moja przygoda zaczęła się od samego serialu czyli... od 1 sezonu 1 odcinka dokładnie.

Fajnie że ktoś utworzył ten temat, bo od niedawna jestem fanem Pokemonów. Od poprzedniego miesiąca tego roku zacząłem oglądać ten serial anime. Moim ulubionym pokemonem jest Charmander, pokemon typu ognistego.

Wczoraj była paczka(osobno były w paczkach) z tymi pluszakami: Trixie: Starlight Glimmer:

PervKapitan replied to topic's Jakubas18 in Off-topic

W paczce była z jakieś 3 dni temu. Kotka Blaze, z serii Sonic'a:

W tym temacie chciałbym was zachęcić do subskrybowania oraz obejrzenia filmów na obu moich kanałów na yt .Główny kanał: Kanał Gacha Life:

FlutterFan replied to topic's Jakubas18 in Off-topic

Tapeta ekranu blokady z tabletu: Tapeta ekranu startowego z tabletu:

Witaj i baw się u nas dobrze!

Witaj i baw się dobrze u nas!

Też mnie to zaciekawiło i myślę że w 9 sezonie zobaczymy prawdopodobnie powrót ich rodziców.

Jeśli ktoś lubi filmową trylogię Władcę Pierścieni oraz Hobbita, to zapraszam do dyskutowania o tej grze właśnie. A tym czasem lecimy! Gra jest z 2006r. która ma wydarzenia podczas filmowej trylogii oraz oferuje nam frakcje sił dobra jak i zła. Jest też dodatek Król Nazguli w którym możemy zagrać nową frakcją zwaną "Angmar" czyli królestwem założonym przez samego przywódcy Nazguli, Czarnoksiężnika z Angmaru. A co do ulubionych frakcji to Isengard oraz właśnie Angmar mam.

Gry na jakie teraz czekam to Elder Scrolls VI i LEGO Star Wars: The Skywalker Saga. Jakby co, to dopiszę kiedyś jeszcze na co będę czekać.

Drejka replied to topic's Jakubas18 in Sezon IX

Na dailymotion albo z yt po przez program DVDvideoSoft Free Studio

Wszystkiego najlepszego z okazji twoich urodzin Cheerful Sparkle!

1

Advilion replied to topic's Jakubas18 in Heroes

Yhm..fajnie że wrzuciłeś i nawet podoba mi się to ale...czy tylko Heroes 3 będzie?