Content count

65

Joined

Last visited
Community Reputation
4
Neutral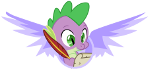 About Lupus Smoth
Rank

Canis rufus


Birthday

November 4
Informacje profilowe
Gender
Miasto
Zainteresowania

Anthro/Furry
Twórczość bronies
Fantasy
Sprzęt Komputerowy
Fizyka

Ulubiona postać

1.Cloud Kicker
2.Princess Luna
2.Vinyl Scratch
3.Rainbow Dash
4.Scootaloo
6.Discord

UWAGA! Kieruje się bardziej fanonem niż kanonem
Co ja się będę rozpisywał skoro nie potrafię. Powiem proste, czekam na więcej świetny fanfic

Poproszę ładnie na wpisanie do Pomorskie, Puck

Tak i tak nie najlepiej ale chyba wole wieczną noc.. Srebro czy złoto?

Jeszcze raz wielkie dzięki

Poszukuje korektora oraz pre-readera do fanfica głównie [comedy] [live] i możliwe trochę [violence]. Główna praca: lanie mnie po łbie jak zapomnę przecinka lub kropki

Zmieniłem prolog na zapowiedź.. i aktualnie piszę coś na kształt pierwszego rozdziału (znaczy jeśli mi komputer pozwoli) Co do tematu to nie ogarnąłem a teraz nawet nie ogarniam jak to zmienić. Właśnie muszę jakiegoś poszukać bo widzę że jest zainteresowanie a spodziewałem się raczej jego braku Jak dobrze pójdzie jutro wieczorem wrzucę 1 rozdział który w zamierzeniach ma mieć ok 10 stron. A i dziękuje wam za wypowiedź w temacie bo każdy głos się dla mnie liczy

Hej, To moje pierwsze podejście do pisania fanfica i czegoś co mam zamiar napisać do końca. Dwójka żołnierzy eskortują pewną klacz ,co z tego wyjdzie dalej zobaczymy (bo sam do końca nie wiem) Prolog (Teraz można to nazwać prologiem) Rozdział 1 p.s wszystkie komentarze (nie licząc hejtu) mile widziane p.s 2 dziękuje Gandzi za wszelką pomoc p.s 3 W góry ostrzegam że nie wiem w jaką stronę się ten fanfic rozwinie, w tym momencie pisze na bieżąco, bez jakiejś z góry ustalonej linii fabularnej.

A gdzie mozna cie znalesc poza forum?

Przeczytane ,czekam na wiecęj .. P.S Dolar świetna robota...

A ja się odświeżę w temacie

Więc to już jutro ... Do zobaczyska all... P.S W razie co szukajcie niskiego gościa w kapeluszu i z przypinką Luny i Rainbow Shaman Kinga lub dużą przypinką "Hug Me"

No właśnie , trzeba się z Brony zgadać jakoś. Szukaj niskiego gościa w kapeluszu z 2 przypinkami..

A kto to? Ale jeśli jest miły i słodki to tak. Czy chciałbyś przeżyć historie taką jak w fanficu "Teenager"?