Content Count

389

Joined

Last visited
Community Reputation
6
Neutral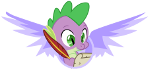 About Avro
Rank

Silver / entuzjasta Gravity Falls, Adventure Time i anime


Birthday

03/13/1995
Kontakt
Strona www
Skype
Gadu-Gadu
Informacje profilowe
Gender
Miasto
Zainteresowania

Gry komputerowe, manga, anime, książki i inne

Ulubiona postać

Raindrops,Luna i Octavia.
Jedyne OC warte uwagi to Fluffle Puff.
Ulubiona postać z anime - Makise Kurisu
Mangowa - Silver (Pokemon Adventures)
Growa - Yukimura Sanada (Samurai Warriors/Warriors Orochi)
Avro

changed their profile photo

Jeżeli ktoś jeszcze nie ogląda to gorąco zachęcam do naprawienia tego błędu. Seria opowiada o losach Tatsumiego, który aby uratować swoją wioskę przed nędzą postanawia rozpocząć karierę w armii stolicy. Jak się prędko okazuje życie nie jest tak sprawiedliwe a rząd nie jest taki dobry jak myślą prości ludzie. I w tym momencie wkracza antyrządowa grupa "Night Raid", której członkinią jest między innymi tytułowa Akame. Seria jest shounenem z bardzo przyjemną kreską, animacją i soundtrackiem a walki stoją na naprawdę wysokim poziomie.

Oprócz tego, że nie przeszedł żaden żart językowy z oryginału i brzmi to większość czasu dziwnie sztucznie. Co do samego serialu - jak dla mnie aktualnie jest o wiele lepszy i bardziej przystępny od MLP. Część techniczna wykonana świetnie - zarówno w aspektach wizualnych jak i dźwiękowych. Postacie są bardzo przyjemne, żarciki językowe zabawne, fabuła lekka acz przyjemna. Zwłaszcza dzięki klimatowi tajemniczości. Jak dla mnie (którekolwiek to było) studio disneya odwaliło kawał niezłej roboty.

Moje kochane konie, 8 lutego odbywa się już trzydziesty meet w Zjednoczonych Republikach Wyngiellandu ze stolicą w Sosnowsi. Zebranie stada jak zwykle na Placu Letnim (świątyni amerykańskiego żarcia) w Silesii o 12. Czyli jak zwykle. Jak zwykle domyślam się, że nie ma żadnego planu. Zapraszam.

Suchy replied to topic's Avro in Śląskie

Skoro jest jakiś maraton to wypadałoby puścić odcinek na końcu. Po pierwsze wytrwali zostaną nagrodzeni a po drugie wtedy powinien już być ( po tych kilku godzinach) w lepszej jakości.

Mi tam ten wątek shounen ai'owy nie przeszkadzał i przyjemnie oglądało mi się to anime. Oceniłem 7/10. Szkoda, że rzeczywiście zawartość anime jest okrojona w porównaniu do mangi.

miskof replied to topic's Avro in Osu!

Można jeszcze w internetach dostać beta buildy Fightning is Magic.

Dawno mnie nie było, jutro lista zostanie zaktualizowana.

Same te bitwy drużynowe były bardzo przyjemne, więc szkoda byłoby rozwiązywać.

Tylko się ogarnę i odpalam WoT'a. Wyślę Ci Ts'a na pw.

Ktoś chętny do gry na tierach 4-6 za jakieś 20 minut?

1/3 moich meczy jest nim rozegrana więc ja tam go lubię.

W sumie do niedawna nie wiedziałem o istnieniu takiej postaci. Dowiedziałem się o jej istnieniu z tego fanfica http://www.fimfiction.net/story/126409/strawberry-muffins'>http://www.fimfiction.net/story/126409/strawberry-muffins Postać kolorystycznie miła dla oka. W imieniu nie rozumiem członu Dash ale ogólnie podoba mi się sama postać. Bonus: "Piękny" art. (chyba nigdy nie zrozumiem dlaczego ludzie malują kucyki w realistycznym stylu ;__: )

Jej chyba chodziło tylko o temat a nie dział, o ile się nie mylę. W każdym razie nawet ktoś taki jak ja, którego ulubioną postacią jest Raindrops ("Kto to jest? To jest w ogóle postać z serialu czy OC?"~bobul) nie kojarzy tej postaci. Sprawdziłem na deviantarcie i ta postać nie otrzymuje praktycznie żadnej uwagi fanów - znalazłem tylko 2 wektory i nic więcej ciekawego.