Content count

25

Joined

Last visited
Community Reputation
33
Good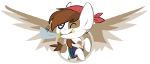 About Katniss. Everdeen
Rank

Zakochana w sztuce


Birthday

April 16
Informacje profilowe
Gender
Ulubiona postać

Moja ulubiona postać to księżniczka Luna.
Cześć wszystkim. Przepraszam że tak długo nic nie dodawałam. Byłam dość mocno pochłonięta nauką i innymi obowiązkami... Zamierzam to nadrobić i postanowiłam dodawać co jakiś czas prace nie związane z kucykami. Oto dwie z nich. Pozdrawiam i miłego wieczoru.

Katniss. Everdeen

changed their profile photo

Podjedź na górę i kliknij : utwórz nowy temat. Pozdrawiam i dzięki za opinię innych.

A ostatnio naszkicowałam też Lunę. Mam nadzieje że się wam spodoba.

Dzięki wielkie. Bardzo mi miło...

Narysowałam ale wygląda troszeczkę inaczej niż chciałam żeby wyglądała. Mimo to uważam że jest ok.

Ok. Przyjęłam. Dziękuję za szczerą ocenę. Następnym razem postaram się zwracać większą uwagę na takie szczegóły. Co do znaczka... Tak wiem że nie jest najlepszy. Taka tam nieudolna próba. Jeszcze raz dziękuję i pozdrawiam.

Katniss. Everdeen replied to Calypso's topic in Na start...

Witam Cię serdecznie. Ja również jestem tu od niedawna. Mam nadzieje że miło spędzisz tu swój czas. Pozdrawiam :)

Dziękuję. Lubicie Snowdrop? Próbowałam narysować jej znaczek...

Masz jeszcze jakieś specjalne życzenia odnośnie rysunków?

No pewnie! Jak znajdę chwilkę to narysuję i dodam... ;)

Faktycznie. Efekt jest naprawdę świetny. I myślę zę poszukiwanie trzeba by było zlecić S. Holmesowi.

Witajcie. Na początek opowiem skąd pomysł na założenie tego tematu. Otóż, w temacie na start pokazałam dwa swoje szkice i większość osób które je widziały zachęcały mnie żebym założyła taki temat o mojej twórczości. Moja pasja trwa od kiedy pamiętam. Rysuję- maluję praktycznie wszystko. Z kucykami zetknęłam się kilka lat temu dzięki mojej obecnej przyjaciółce. To również ona namówiła mnie na dołączenie do forum Serdecznie pozdrawiam Kat.

Nie, niestety nie znam jego pochodzenia... Wybrała go z tego względu że mi ròwnież się bardzo spodobał.