Content count

111

Joined

Last visited
Community Reputation
296
Wzorowa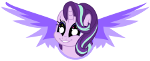 49 Followers
About Michalski9
Rank

Słodki kucyk


Birthday

03/31/1995
Kontakt
Strona www
Skype

Jak chcesz nick to napisz na PW

Gadu-Gadu
Discord ID
Informacje profilowe
Gender
Miasto

Świat > Ziemia > Polska > Brzeg/ Wrocław

Zainteresowania
Ulubiona postać
Michalski9

changed their profile photo

- Tylko jeden? Co to za zabawa! - Odpowiedział Busma z dziwnym błyskiem w oku i złowieszczą miną, podnosząc powoli głowę. - Niech zwycięży Luna - Dodał, a na jego twarzy pojawił się niesymetryczny uśmiech zadowolenia, poczuł ulgę, myśląc o śmierci.

- Wyluzuj, nie ma co się spinać bro. - Powiedział Busma udając naćpanego. - Nie no, serio, to mój sposób na stres. Wiem, że nie ma co aż tak to olewać, ale uwierz mi, zachowuję niezbędną czujność . - Dokończył.

- Oho. Zapowiada się ciekawie! - Powiedział Busma i umieścił w pyszczku kolejną wielką garść popcornu, tak, że ledwo mógł go zamknąć.

Yay! Super! - Krzyknął Busma, uderzając o siebie kopytami, po czym usiadł obok towarzysza. Daj trochę. - Powiedział, biorąc popcorn od Holi i uśmiechając się do Niego szeroko. - Hihi.

Ehh... nie chce mi się grać w takie rzeczy, nie mogą sami się ruszać? - Rzekł Busma, widząc na co się zapowiada. - Może innym razem.

Busma skaczę to w tą to w tamtą pocałym polu bitwy rozglądając się. - Wow, niezłe. - Mówi w zachwycie i usnaniu klikając jakiegoś kucyka w nos. Zaczyna po kolei klikać kucyki w nos, a na końcu księżniczkę, śmiejąc się do siebie.

Niech me oczy uraczone zostaną tym widowiskiem, hihi! - Próbuje wyniośle zakrzyknąć Busma, lecz od śmiechu odpwdzić się nie może.

- O. Ooo! - Uderza kopytkiem o kopytko Busma - Jeszcze raz, jeszcze raz!

- Oh... no ok, skoro taka Wasza wola. - Zaczyna Busma. - Będzie jadka! - Dodaje w następnej chwili - Walka, Walka, walka! yaaay - śmieje się do siebie.

Yeah! Fajni ludzie powracają!

@Rainbow Guitar, witamy ponownie!

 

1

1

NIe, a są? Chyba zacznę uważniej śledzić to co tam jest. Widziałeś film Nietykalni?

Hihi... Smoki! Przyjaźń czy miłość?

No widzisz, dlatego jest Nas parę osób,mój drogi przyjacielu Każdy patrzy ze swojej perspektywy i wnosi nowe pomysło - Odpowiedział Busma klepiąc towarzysza po głowie, jakby był małym źrebięciem.