Content Count

12

Joined

Last visited
Community Reputation
20
Neutral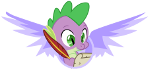 About Atria
Rank

Źrebaczek


Birthday

10/12/1999
Czy osoby spoza Zgorzelca są mile widziane?

Mieszkam w okolicach Wrocławia i brata stety bądź nie, nie posiadam.

Dziękuję a co do opiekuna, to chyba zbyt odpowiedzialna rola jak dla mnie.

Mi również miło poznać. 1. Nigdy nie jadłam Toruńskich pierników. ¯\_(ツ)_/¯ 2. Kubełek z frytkami, dużą ilością mięsa i serem. 3. Futu.re (Nie mogę wybrać jednej, więc wypiszę tu ich jeszcze trochę). Lolita, Chrzest Ognia i Metro 2033, 2034, 2035. 4. Octavia 5. Urzekło mnie coś w nich, już od pierwszych odcinków, pierwszego sezonu. 6. Nie potrafię wybrać, Soki i wodę piję w dużych ilościach. 7. Chipsy (Najlepsze są z rozmarynem lub zwykłe solone) 8. Boso na trawniku, a tak to zwykle skarpetki bo moje stopy marzną. 9. Nie ograniczam się w muzyce. 10. Nie czas to, nie miejsce żeby rozmawiać o polityce. 11. Nie mam. 12. Tak, piszę. 13. Jeśli już to pływanie podczas olimpiady, staram się też przekonać do piłki nożej.

1. Rosyjski niebieski (mój patronus <3) i brytyjczyki. Ten drugi, byłby u mnie w domu, ale przekonałam rodziców, że kot że schroniska będzie lepszy. 2. Raczej tak, najlepsza z sosem śmietanowym na spodzie i oliwkami. 3. Każdy ryś jest cudowny! P.S Nie mieszkam we Wrocławiu, tylko niedaleko niego.

Atria

changed their profile photo

Sezon Burz osobiście nie przypadł mi do gustu, sama do końca nie potrafię przyznać czemu, tak to czasem jest. Najbardziej lubię Chrzest Ognia i każde opowiadanie, gdzie pojawiła się Yen, a ty?