Content Count

70

Joined

Last visited
Community Reputation
37
Good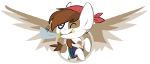 About Madavo
Rank

Ciasteczek.


Birthday

01/20/1999
Informacje profilowe
Gender
Miasto
Zainteresowania

Interesuje się tworzeniem jakiejś tam grafiki w Photoshopie jak i w stopniu minimalnym rysowanie, które było niegdyś moim hobby.
Lubię jeździć na rolkach, spotykać się z przyjaciółmi, no i oczywiście razem z nimi imprezować.
Nie będę oszukiwać, bardzo lubię gry komputerowe, wszelakiego rodzaju, od zwykłego rpg do nawet mmorpg, single, multi, dużo by się rozpisywać.
Manga i anime nie są mi straszne, lubię czasami sam nawet coś obejrzeć, seriale? Raczej nie, ale MLP zawsze :)

Ulubiona postać

Pinkie Pie, Vinyl Scratch, Applejack, Sombra, Rainbow Dash, Discord, Derpy, Trixe, Flim Flam Brothers.
Pewnie kiedyś się zastanawialiście co to za ceny z kosmosu. To teraz zobaczcie sobie wodę.

No jo, oczy ja pomagałem zrobić xD Jednak art jest taki, no taki niby chyba dobry.

To nieźle tego dzieciaka wywiało.