Content Count

384

Joined

Last visited
Community Reputation
305
Wzorowa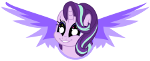 36 Followers
About Darkbloodpony
Rank

Kucykowy Darth Sidious

Informacje profilowe
Gender
Miasto
Zainteresowania

Rozdawanie Repek, tworzenie nowych słów, które do złudzenia przypominają pierwowzory, popularnie zwanymi błędami ortograficznymi.
Szukam korektorów do opowiadania, więcej szczegółów na wp. 

 

Szukam korektora do opowiadania. Więcej szczegółów na wp.

Mogę zamknąć cię w lochu? Proszę... Proszę... Proszę...

Kalibracja sprzętu nasłuchowego.

No to się doigrałeś, mały bohomazie.

Witam Chciałbym przedstawić wam rezultat małej eksperymentalnej serii krótkich opowiadań pisanej na luźno. Pomysł jest prosty i jest próbą rozszerzenie kultury batponych o bajki, baśnie, mity, legendy itp... W końcu pośród każdej nacji istnieją opowieści przekazywane z ust do ust, spisane baśnie oraz legendy. Dlaczego batpony nie miałyby mieć własnych? Oto kilka z nich (na razie jedna :-) ) , których udało mi się spisać. Srebrny dzbanek #1 [Oneschot] [Slince of Life] [Bajka] W tej serii jestem bardzo otwarty na propozycję dotyczące tematu, więc jak ktoś ma jakiś pomysł proszę śmiało pisać.

Szukam chętnych, mających chwilkę czasu, do korekty opowiadania długości pięciu stron, około 2k słów.Opowiadanie jest bajką osadzoną w świecie mlp. Małym eksperymentem, który może zapoczątkować serie opowiadań.