Content Count

6

Joined

Last visited
Community Reputation
1
Neutral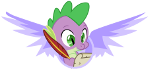 About Husarz
Rank

Szaleniec w pudełku.

Ach, nie spodziewałem się, że kiedyś jeszcze ujrzę Teenagera. Jeden z pierwszych fików jakie przeczytałem, więc wracam do niego z ogromnym sentymentem. Nową wersję czyta się bardzo przyjemnie i mam nadzieję, że nie tylko dotrwasz z pisaniem do momentu, w którym byłeś ostatnio, ale (tym razem) aż do samego zakończenia. Tak czy inaczej wiedz, że masz już co najmniej jednego wiernego czytelnika, który czeka na więcej :D.

Husarz

changed their profile photo

To samo co kolega wyżej .

Dziękuję wszystkim za miłe przywitanie 1. Tak, lubię. 2. Discord jako ten zły . 3. Luna. 4. Jako jednorożca. 5. Ulubiony? "Five Score, Divided by Four", a z polskich to "W poszukiwaniu Dawnej Chwały"

1. Science-Fiction. 2. Przygodowe związane z Historią. 3. Tak. 4. Generalnie każdej. 5. Vinyl Scratch. 6. Discord

Witam. Zowię się Husarz. W fandomie jestem od 2 lat ale jakoś nie było okazji żeby się przywitać na forum. Mieszkam w centrum Polski, skąd wszędzie daleko. Lubię słuchać muzyki ( ). Interesuję się historią (najbardziej okresem wojen Rzeczpospolitej w 17 wieku oraz II Wojną Światową). Moje hobby to animacja komputerowa, najczęściej 3d w Blenderze, ale jak trzeba to umiem obsługiwać Flasha. No i lubię jeszcze Gwiezdne Wojny oraz Władcę Pierścieni.

Witam. Zanim zacznę opis chciałbym rzec, że tekst ten jest moim debiutem, więc proszę o wypominanie mi każdego błędu oraz konstruktywną krytykę [wyrozumiałość też się przyda]. Tekst ten jest crossoverem z uniwersum gwiezdnych wojen, aczkolwiek nie ścisłym. Wzoruję się na sytuacji która przydarzyła się mi w pewnej grze strategicznej. Jako, iż nie wiem cóż więcej rzec zapraszam do czytania: Prolog: https://docs.google.com/a/gazeta.pl/document/d/1UN3hhcvrn1E3XJfHK9XLO-_hJZLqS4ZRAy3kQSpC6cs/edit Rozdział Pierwszy: https://docs.google.com/a/gazeta.pl/document/d/1TnhjsiyUEIxz8rXvOCJqUmXuUODzJAoo3obzPVNTjuo/edit Podziękowania dla: Eivela za nieocenioną pomoc w poprawie błędów i jakości przedstawianego tekstu. McKey'a za wstępną poprawę błędów i literówek występujących w tekście. Mnie za napisanie tego tekstu oraz wykonanie ilustracji .