Content Count

43

Joined

Last visited
Community Reputation
49
Good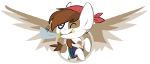 About Smutny
Rank

Czołgista,Strzelec,stalker


Birthday

07/12/1998
Informacje profilowe
Gender
Miasto
Zainteresowania

Militaria,postapo,kucyki,książki,zbieranie kapsli,noży,fallout

Ulubiona postać
Smutny

changed their profile photo

Witam mam pytanie do forumowych znawców asg. czy warto kupować repliki z Taiwangun? Jeśli tak to czy zakup jednej z tych replik ma sens? Nie wiem jeszcze czy wybiorę się na jakąś bitwę więc dlatego wybrałem takie niskobudżetowe. http://www.taiwangun.com/elektryczne/cm-516-cm?from=listing&campaign-id=19 http://www.taiwangun.com/elektryczne/608-tan-jg?from=listing&campaign-id=19

...Zrobić wiele ale nie wiem jak widziałem....

XANAXTHOUS replied to topic's Smutny in Muzyka

bo po pierwsze moja ulubiona to Blackjack z Fallouta Equestri i tylko jej grzywę przemalowałem na ulubiony kolor.

mam Masz może plakat z Wiedźminem ?

Mam zabawę w proszku,płynie,tabletach zależy jaką chcesz hehe Masz może naboje 7,62 albo 5,56 NATO ?

chciałbym być metalem ,ale nie mam rąk.

we wrześniu dopadło mnie przygnębienie, myślałem że to minie a jednak dalej trwa i końca nie widać, zastanawiałem się czy to depresja czy nie, ostatecznie dalej tego nie wiem, mam czasem lepsze dni ale przeważnie mam ochotę położyć się na łóżku i przespać cały dzień Utwierdzam się w przekonaniu że popełniłem błąd w wyborze szkoły i przegrałem całe swoje życie, pisałem też opowiadania ,ale mam wrażenie że są do niczego i ostatnio wyrzuciłem jedno z większych (70 stron). W szkole jestem coraz cichszy siedzę większość przerw ze słuchawkami na uszach lub z książką w dłoni, rozmawiam tylko z jednym kolegą.