Content Count

2670

Joined

Last visited

Days Won

11
Community Reputation
566
Equestriańska Legenda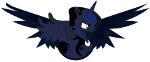 38 Followers
About Eter
Rank

Lonesome road


Birthday

02/13/1992
To i ja się pochwalę - uszczelniłem silnik w moim jeepie dzięki czemu nie leje się z niego olej jak z cilaka w ubojni... na dwa do trzech miesięcy mam luz z naprawami

Eter replied to topic's Eter in Requesty

No mistrzowsko! Dziękuję bardzo

Hej ho :) Już kilka ładnych lat temu dostałem fajnego arta w formie papierowej, niestety uległ zniszczeniu / zaginął i jedyne co mi pozostało po nim to jego zdjęcia. Czy jest ktoś, kto na podstawie zdjęć jest w stanie odtworzyć tego arta w digitalu lub odmalować go? Naturalnie odwdzięczę się za to :)

Nie, być może to za sprawą kilku chińskich restauracji w pobliżu Masz własny samochód?

Kit z ceną, ja tylko czekam na mod pokroju redux z gta 5 do red dead 2... trzeba odkładać hajs na nowy komputer

Niklas replied to topic's Eter in Sezon IX

Equestria at war, polecam z całego serca, taka wisienka na torcie po zakończeniu serialu

To jest mój odtwarzacz do netflixa więc nie

Ja kupiłem xbox one x pół roku temu i grałem z cztery dni A z gier to czekam za zapowiedzą nowego dodatku do hearts of iron 4. Btw jak ktoś gra w hoi4 na equestria at war to pisać

Pojedziemy po bandzie, robimy oc z historią, zdolnościami bla, bla, bla. Rasa dowolna

To i ja się czymś pochwalę, a co Zawsze chciałem mieć amerykański samochód, taki z krwi i kości... Duży, z ogromynm silnikiem, pięknym dźwiękiem i dużym (niestety ) spalaniem. Zbierałem, zbierałem i nazbierałem - Jeep grand cherokee ZJ 5.2

Czas, czas, czas... 24h to za mało by wszystko zrobić Tak na szybko, oto mapka z equestria at war z całym światem oraz tak na szybko lore. https://equestria-at-war.fandom.com/wiki/Equestria_at_War_Wiki Proponuję dać po 3 typy gdzię rozpocząć rpg/pbf i pomyślimy co dalej. Każdy kto chce grać to musi zrobić swojego oc przypominam (najlepiej anthro)

Na Armę się piszę ( lub hearts of iron 4) W tym roku miałem jechać tylko na MA... ale chyba odpadam bo koszty sprowadzenia auta zza granicy trochę poszły za wysoko :( Niestety nie napisałem nic o rpg pbf bo czas ale w weekend ogarnę

Mam dzisiaj wolny dzień, postaram sie ogarnąć lote, dać linki itp.

Można dodać w trakcie, to nie problem. To co? Ogarniamy lore i coś tworzymy?