Content Count

1

Joined

Last visited
Community Reputation
1
Neutral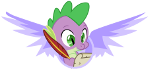 Informacje profilowe
Gender
Miasto
Zainteresowania

Matematyka, programowanie, muzyka funk, miłośnik wilków.

Ulubiona postać

Twilight Sparkle <3
Sunset Shimmer <3
Starlight Glimmer <3
Jako osoba, która miała przyjemność czytać tego fika wcześniej przed publikacją, mogę z całą pewnością polecić to opowiadanie. Każdy rozdział czyta się przyjemnie, akcja nie jest prowadzona w bardzo szybkim tempie, wszystko ma swój czas i swoje miejsce. Sam bohater utworu jest postacią, z którą większość z nas może się utożsamić. Stres w pracy, bezduszne procedury, ludzie szkodliwi dla naszego otoczenia mogą kiedyś wykończyć... oraz doskwierająca samotność, brak bliskiej osoby, dzięki której życie mogłoby być lepiej znośne. Relacja głównego bohatera z Sunset Shimmer powoduje, że otwiera on oczy na wiele spraw, nawet tych z rodzaju nieprawdopodobnych, wręcz niemożliwych do realizacji. Zmusza do refleksji. Nie pozostaje mi nic innego, jak tylko zachęcić do czytania i oczekiwać na kolejne rozdziały.

Ja też miałem połączone konto z Gry Google i są dwie możliwe opcje: albo usunęli możliwość logowania się przez Gry Google (i tym samym przez Facebooka) albo obecna aktualizacja ma buga, przez którego nie można się zalogować. Zobaczymy czy w następnej aktualizacji będzie ten sam problem.

Jeżeli gra była wcześniej połączona z kontem (albo przez Gry Google albo Facebook), to można spróbować napisać do supportu Gameloft o przywrócenie danych. A jak nie, to może przydatne będzie rozwiązanie poniżej. Na stronie supportu widnieje taka informacja: "How can I restore/transfer my game progress (USA)? In order to restore your progress, you need to complete the tutorial and load the progress from the cloud conflict message that you will receive. Make sure that you are connected to Wi-Fi in order to access the server." Mam nadzieję, że to pomoże.