Content Count

276

Joined

Last visited
Community Reputation
22
Neutral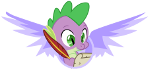 15 Followers
About kosiara120
Rank

Error 404 - Not found


Birthday

May 8
Informacje profilowe
Gender
Miasto

Jakieś zadupie w południowo-wschodniej Polsce
Matulu najsłodsza, bardzo mi się podoba. Mam nadzieje, że szybko nie stracisz weny i chęci.

To kucyki .-. Serial dla dziewczynek tu wszystko jest możliwe Discorda "oswoili" to myślisz że latającego kunia morskiego nie dadzą? To są pewnie kucykowe odpowiedniki syren, ale dla mnie pozostaną one kuniami morskimi

To nie smoki, to kuń-syreny lul Hmm...płetwy są, ogon jest, łuski...KUŃ MORSKI

Mój kolega pisał kiedyś ff na ten temat...Co do pieśni, pierwsze co przyszło mi na myśl to te pieśni z ff "Background pony" tamte (z tego co zrozumiałam) miały dziwne właściwości. Ale sama Octavia w wersji Nightmare? Jestem jak najbardziej za. Ja sobie wyobrażam ją w bardzo ciemnym brązie lub czerni. Z ciemniejszą grzywą z czarno-białymi pasemkami, ułożenie bardzo eleganckie, nie rozwiane na wszystkie strony. Znaczek, możliwe że zmieniłby się w granatowy z białymi nutkami lub iskrami. Jej instrument by ściemniał, a podczas gry leciały by takie iskry....Tak ja sobie to wyobrażam

Zna ktoś jakieś piosenki (najlepiej fandomowe) które po dodaniu do filmu na YT nie wywali mi go w kosmos?

Hmm....A gdyby cała mroczna siła księżyca się wydostała? Taka siła zbierana od tysiącleci przełamuje jakąś barierę i leci na Equestrie. Co wtedy? Celestia chce z tym walczyć, chronić kucyki i swoją siostrę. Coś nie idzie po jej planie i cała ta mroczna energia ją opanowuje. Wiadomo, Celestia silna jednemu byle demonowi się opanować nie da, ale co jeśli będą ich setki. Setki demonów chcących zemsty lub po prostu pchane ku złemu. Celestia po tym zdarzeniu nie chce martwić siostry. Panuje tak jak panowała, ale nadal demony próbują nią zapanować. Jeden incydent, jedna mała rzecz i Celestia się łamię. Zamienia się w nightmare...

Chciałabym ;-; Lecz nie....może kiedyś. Ze zwierzaków wychodzą mi tylko kuce ;-;

Aretra replied to topic's kosiara120 in Sezon V

-Ja osobiście mam nadzieje na odcinek z Luną... -Może więcej historii o Equestri? -Coś może w końcu o rodzicach kuców? Jakiś dzień rodziciela czy inne święto im poświęcone? Ciekawie by było

Nie wiedziałam jaki ma kolor magi, więc wybrałam najprawdopodobniejszą (oczy)

Oczywiście umieszczaj gdzie chcesz

Przepraszam moje roztargnienie...Miałam to zrobione tylko zapomniałam wrzucić

Dobrze gada polać jej. Ja uważam, że powinna mieć coś we włosach. Nie nie wiadomo jaką spinkę. Opaskę, kremową na przykład. Dobrze gada polać jej. Ja uważam, że powinna mieć coś we włosach. Nie nie wiadomo jaką spinkę. Opaskę, kremową na przykład.