Content Count

38

Joined

Last visited
Community Reputation
7
Neutral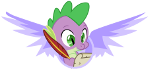 16 Followers
About JanetJ777
Rank

Źrebaczek


Birthday

07/21/1995
Poprawiłam https://docs.google.com/file/d/0B8RqmjLUhnG6enVLMkctNndtTU0/edit

Moje nagranie wraz z napisami końcowymi, ciut czasem obraz zacina się https://docs.google.com/file/d/0B8RqmjLUhnG6enVLMkctNndtTU0/edit?usp=sharing Moim zdaniem Sunset była świetna a zaś Luna i intro było okropne. Inne głosy były bo nagrywało SDI Media Polska.

Napisali mi to na facebooku... P.S Wiadomo już kto będzie streamował?

Tylko teraz czy Teletoon dostanie film od HUB czy Hasbro?

Wycięli piosenkę This strange world, Trixe przy automacie oraz ligę znaczkową z Cheerilee w bibliotece i Derpy z napisów.

Niby Teletoon+ zapewnia że nie mają prawa ingerować(w tym ucinać scen) w materiał który dostaną ale co jak dostaną film z Hub a nie z płyty?

Hub uciął najlepsze sceny -.- http://www.youtube.com/watch?v=u1Q0UlFbnuU

Ja na pewno nagram to a live zobaczę czy dam radę.

Teletoon+ ma BARDZO złych dubbingujących aktorów, przykład: http://www.youtube.com/watch?v=pRiwBiGxRxM http://www.youtube.com/watch?v=WTHtDBtd41E

Czy tylko mi ten fragment ze Scootaloo skojarzył się z fanfikiem ,,Rainbow factory"?

Celestia wysłała ją żeby poznała przyjaciół ale Twilight nie chciała dopóki nie poszły z nią walczyć z NMM. Wiec jakby nie było NMM nie miałyby po co iść po Elementy harmonii. Jak nic to będzie tylko retrospekcja i lekcja o zazdrości... Może nawet Discord wpląta się albo Chrysalis.

Jakby nie dopuściła do przemiany to by nie poznała mane 5.

A mnie to przypomina Harrego Pottera i komnatę tajemnic i pamiętnik Toma Riddla. Tylko pytanie czyj pamiętnik dorwała Twilight? Discorda? Luny? Celesti?

Zamieniłam jak od niechcenia strzałę w stokrotkę a następnie nasłałam na mojego przeciwnika wielkiego czerwonego smoka. Zaczarowałam go tak żeby mnie ani widzów nie atakował i kiedy Ryszard walczył z nim jadłam popcorn.

Weszłam pewnym krokiem na arenę,rozejrzałam się po widowni a następnie spojrzałam na mojego przeciwnika. Czekałam w ciszy na jego pierwszy ruch aż w końcu nie widząc reakcji zaczęłam pojedynek otaczając go ogniem.