Content Count

667

Joined

Last visited

Days Won

2
Community Reputation
520
Equestriańska Legenda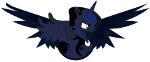 16 Followers
About Lucas
Rank

Spriteoholik


Birthday

05/01/1998
Informacje profilowe
Gender
Miasto

Największe miasto węgla brunatnego

Zainteresowania

Książki przygodowe i fantastyczno-naukowe, gry i muzyka


Ulubiona postać

Rainbow Dash, Princess Luna, Derpy
Ile to już było ślubów pokazanych w serialu? S02E25-26 - Shining Armor i Cadence S05E09 - Cranky Doodle Donkey i Matilda S07E13 - Bright Mac i Pear Butter S09E23 - Big Macintosh i Suggar Belle S09E?? - Lyra Heartstrings i Bon Bon? Co mogę więcej powiedzieć, niż że to wspaniały epizod, jak każdy o ślubie.

Program MiniMini+ na ten tydzień w kwestii serialu "My Little Pony: Przyjaźń to magia": Środa 13:35 - S09E05 20:20 - S09E06 Czwartek 13:35 - S09E06 20:20 - S09E07 Piątek 13:35 - S09E07 20:20 - S09E09 Sobota 13:35 - S09E09 20:20 - S09E08 Niedziela 13:35 - S09E08 20:20 - S09E10 Emisje S09E8 i S09E9 zamieniły się miejscami.

@VengirLepiej poczekać aż polska emisja faktycznie wyprzedzi angielską emisję (niby 22 września) i wtedy możemy gadać o drugim miejscu.

https://www.miniminiplus.pl/program# MiniMini+ od dzisiaj codziennie będzie emitował nowe epizod sezonu 9, więc finał już 26 września. Gdzie angielskie kanały 22 epizod dopiero 28 września mają. Będzie ktoś retransmitował MiniMini+ do finału zaczynając od dzisiaj?

Nadal aktywne czy już porzucone?

Minish, Hero of the Storm replied to topic's Lucas in Gry i zabawy

987. Jego wróg był wyżej.

Accurate Accu Memory replied to topic's Lucas in Projekty

Twórcy My Little Investigations, Equestrian Dreamers ogłosili, że nie będą kontynuować prac nad MLI. Tym samym my, Królewskie Archiwa Canterlotu ogłaszamy, że nie będziemy dla Was tłumaczyć kolejnych spraw tejże gry. Dziękujemy za Wasze wsparcie i mamy nadzieję, że zobaczymy się w kolejnych naszych przekładach.

Adisso replied to topic's Lucas in Humor

XANAXTHOUS replied to topic's Lucas in Muzyka

MWerec replied to topic's Lucas in Sezon IX

Do powiedzenia mam w sumie dwie rzeczy: - Celestia i Luna potrzebowały wakacji, a siostrzanej piosenki tym bardziej. Można też bardziej je poznać. !POCZTA! - Twilight Sparkle, Storm King jest z ciebie dumny.

FlutterFan replied to topic's Lucas in Off-topic

Triste Cordis replied to topic's Lucas in Steam

Na GOG-u jest "Distraint: Deluxe Edition" za darmo.

Ojciec gry zapowiedział, że w następnym tygodniu na PST możemy zobaczyć aktualizację balansu bohaterów i małą niespodziankę. Coś, co dzisiaj mnie rozbawiło: Blizzard zapowiada, że 2019 zobaczymy powrót komiksów, właśnie nad kilkoma pracują i zapewnia, że Archiwa 2019 dostaną nową historię!

Lucas

changed their profile photo

Dlatego gra się z własnymi ludźmi, a nie czekasz sprzyjający los. 19 czerwca miały być "Wiadomości od twórców", lecz tak się nie stało. Jeff wyjaśnił niedawno, że to wina niestabilności aktualizacji, i że zespół intensywnie pracuje nad jej naprawą. Wspomniał, że pojawi się w ten piątek, a jeśli nie się nie uporają, to gdzieś w ten weekend.