Content Count

216

Joined

Days Won

2
Community Reputation
194
Great and Powerful Reputation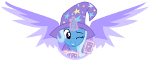 Nie Lubisz swoją szkołę/pracę?

Skończyłam oglądać sezon 4 DW i chciałam zacząć odcinki specjalne, ale podejrzewam, że znowu będę płakać jak bóbr przy śmierci ulubionego Doctora. Lepiej nie

Kathy

changed their profile photo

W tej chwili Pinkie. Mogłaby zabrać ze sobą swoją armatkę i wystrzelić prosto we mnie.

Witam, witam miłej zabawy na forum I jedna, mała uwaga-jak już używasz pewnych słów to je zagwiazdkuj czy coś, bo po pierwsze nie ładnie tak się wyrażać, a po drugie możliwe że moderacja będzie reagować.

Bhahahaha Niech ktoś by tylko spróbował dać mi bana

Ja nienawidzę pizzy A tak w ogóle, witaj na forum itd.

Taki się liczy? A tak serio. Niezbyt mnie interesuje ta tematyka, więc nie mam żadnych ulubionych ani nie znam się na ich rodzajach.

Wrzucam kolejny filmik, który ostatnio znalazłam (żeby temat całkiem nie zdechł xD) Trochę stary "trailer", bo z 2016, ale moim zdaniem genialnie zrobiony.

Nie chodziło mi o kwestię fandomów tylko ogólnie.

Pierwszy raz przegapiłam premierę nowego sezonu. *Właśnie uświadamiasz sobie że zbliżasz się go tego krytycznego punktu w którym powiesz że ukochana kreskówka, którą oglądasz prawie 4 lata... DA DA DAM...znudziła ci się!* Ok. Bez dramy. Póki co MLP jeszcze oglądam i powiem szczerze że odcinki okazały się lepsze niż przypuszczałam, mimo że bardzo brakuje mi czasów kiedy Mane6 ratowały Equestrię przed wielkim złem.

Kolejny fan Doktorka! No, a jeśli chodzi o kuce i fandom to ostatnio trochę z nimi "zerwałam", niemniej jednak cieszy mnie bardzo że pojawiają się nowe osoby. Witaj i baw się dobrze!