Content Count

44

Joined

Last visited

Days Won

8
Community Reputation
225
Great and Powerful Reputation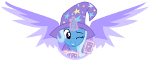 About Marudkeł
Rank

Podopieczny Nightmare Moon i Amaterasu


Birthday

03/12/2003
Kontakt
Strona www
Yahoo
Jabber
Skype
Gadu-Gadu
Instagram
Snapchat
Discord ID
Informacje profilowe
Gender
Miasto
Zainteresowania

Pisanie fanfików, Gry, Horrory, Filmy, Seriale, Fundacja SCP, Mitologia i... Bardzo lubię też Roleplay ^w^

Ulubiona postać

Rainbow Dash, Fluttershy, Nightmare Moon, Luna, Daybreaker, Sombra
Single Status Update
Pamiętacie moją najkrótszą "recenzję" Fallouta 76, gdzie wrzucam pudełko z grą do kosza, a kosz kopię? Stało się coś niebywałego, bo jakiś matoł ma do mnie ból dupy o ten filmik. Nie wiem, czy to bait, ale... Oj, coś mi się zdaje, że mogę mieć autentycznie do czynienia z obrażonym fanboyem. Właściwie, mogłem odpowiedzieć mu w tylko jeden sposób xD

 

A tu link do filmiku, o którym mowa:

 

 

Nie chcę ci psuć zabawy (ale popsuję), jednak pragnę zaznaczyć, że F76, to także samotna wyprawa w pustkowia. NIkt cię nie zmusza do tego, byś grał w drużynie. Napotkasz innych graczy, ale oni nawet się pewnie tobą nie zainteresują. Just keep calm and murder mutants.

Generalnie zgadzam się z Tristem, ale za darmo, to jednak bym spróbował zagrać. 

Po za tym single w tym ma przewagę nad multi, że fajnie się świat zmienia w zależności od tego jakich dokonujesz wyborów, a... mimo, że nie wiem jak jest do końca w 76, ale wniosku, że podobnie... Więc pewnie zabijasz przywódce bandytów i hurra wszyscy happy po czym dowódca odżywa by... ktoś inny lub Ty mógł go znowu zabić bo quest jest powtarzalny... no w sumie, to dziwnie wygląda, a sam świat w mmo jest jak jakiś powtarzalny matrix.

 

Powiem szczerze, w fabułę 76 się nie zagłębiałem, bo jedyne co robię w tej grze, to rushuję i nie chce mi się wykonywać jakichkolwiek zadań. Mogę powiedzieć tyle, że fabuła 76 polega na czymś zupełnie innym i możemy stanąć po stronie albo bandytów albo zwykłych osadników, którym chodzi o odnalezienie tajemniczego skarbu, o którym wieść się rozeszła i do Appalachii zaczęli przybywać ludzie. Co do tego powtarzalnego remixu, cóż, tak jest niestety z większością gier MMO. Pierwszy lepszy przykład, Tibia, Margonem, albo chociażby taki Black Desert Online.