Content Count

3,333

Joined

Last visited

Days Won

85
Community Reputation
3,138
Pióro Starswirla Brodatego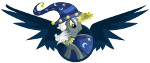 42 Followers
About Starlight Sparkle
Rank

Najlepsza asystentka Wielkiej i Potężnej Trixie!


Birthday

May 2
Kontakt
Skype

Telegram @Starlight_Sparkle

Gadu-Gadu
Discord ID
Informacje profilowe
Miasto
Zainteresowania

1-MLP,
2-Sci-Fi,
3-Gry,
4-Papierowe RPG,
5-Historia,
6-Mitologia,
7-Anime,
8-Konie,
9-Łucznictwo,
10-ASG,
11-Gry planszowe.

Ulubiona postać

MLP:
1-Twilight Sparkle
2-Applejack
3-Fluttershy
4-Rarity
5-Pinkie Pie
6-Rainbow Dash
7-Princess Celestia
8-Princess Luna
9-Nightmare Moon
10-Queen Chrysalis
11-Trixie
12-Starlight Glimmer

Kolejność przypadkowa.

Kontakt:
Telegram - @StarlightSparklePony
Natuszka replied to topic's Starlight Sparkle in Gry i zabawy

Czasem tak... zazwyczaj. Czy posiadasz rower?

Mortron102 replied to topic's Starlight Sparkle in Gry i zabawy

Od ściany Lody czy zimny napój?

Adisso replied to topic's Starlight Sparkle in Muzyka

Kenny Rogers - The Gambler

Decaded replied to topic's Starlight Sparkle in Gry i zabawy

Nie... prawie w ogóle Pijesz sporo kawy?

MLPFan1984 replied to topic's Starlight Sparkle in Gry i zabawy

Jestem i przepraszam za ociąganie się. Więc tak oczywiście @Triste Cordis masz rację, jest to Deus Ex: Invisible War. Hud nie był aż tak tragiczny w tej grze i widziałem gorsze. Dajesz dalej

Klacz przeciągnęła się leniwie i spojrzała na zasypiającego Youkaia. - Cóż chyba trzeba będzie kończyć zagadkę i zabawę… - Jesteś tego pewna? - Bella zapytała, dokładając kolejny fragment. - A no niestety, ale coraz bardziej tak. Skupię się na innych projektach… moich własnych i chyba zmienię szkołę na coś zupełnie innego, ale już nie w tym miejscu. Bella wiedziała, że w tym momencie klacz już nie rzuca słów na wiatr. Wkrótce pewnie i ona, Merry skończą naukę u Starlight i wrócą do własnych domów i rodzin.

Ta gra to Darksiders. Dobrze kolejna gra, o jaką zapytamy, to będzie...

Triste Cordis replied to topic's Starlight Sparkle in Brony Gaming

Ja gram kolejny raz już w XCom... tym razem mam zamiar skończyć całą dostępną kampanię od pierwszej części, czyli XCOM Enemy Within po XCOM: Chimera Squad. Mam wszystkie części i wszystkie DLC wiec czas poznać całą historię walki ludzkości z inwazją obcych.

Kolejna zagadka była już w zasadzie gotowa. Mała Bella zaraz po tym, jak wpadł do sali Cheerful, wybiegła szukać Starlight i opowiedzieć jej o niesamowitym wyczynie Youkaia, który to sprowadził do nas z powrotem naszego podejrzanego kucyka. - A więc mówisz, że... Słodka Celestio naprawdę tutaj jest! - Starlight spojrzała na Cheerfula i Youkaia i zaraz przemkło jej przez myśl, że dwa ogiery zaczną się lada chwila być czy znowu obrzucać "przyjacielskimi" docinkami. - Mówiłam... i to Youkai go ściągnął tu... a przynajmniej tak twierdzi. Ja jednak mu wierzę. - Masz rację Youkaiku - Starlight usiadła obok ogiera i spojrzała na zagadkę - też już wiem, co to jest... ale faktycznie dajmy szansę.

Zależy od podejścia... ja i tak poczekam z tydzień, by ludzie ocenili i wyłapali błędy. Nie chcę się załapać na jakiś zabugowany produkt albo na jak to wspomniałeś... na jakiś przeciętniak.

Niektórzy po prostu wpadają w hype i potem odpadają z niego, inni natomiast czekają na dobrą grę... ja uważam, że warto poczekać, jeśli dzięki temu dopracują produkt.

A... co to się ostatnio podziało między wami? Co wiadomość, to jeden o drugim wspomina.