Content Count

38

Joined

Last visited
Community Reputation
51
Bardzo dobra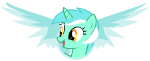 About Nightmare Moon i Marudka
Rank

Mały Człowiek Nightmare Moon


Birthday

03/12/2003
Kontakt
Strona www
Yahoo
Jabber
Skype
Gadu-Gadu
Instagram
Snapchat
Discord ID
Informacje profilowe
Gender
Miasto
Zainteresowania

Horrory, Pisanie, MLP, Fanfiction, Filmy, Gry i... W sumie nie wiem co tu jeszcze dać...

Ulubiona postać

Rainbow Dash, Fluttershy, Nightmare Moon, Luna, Daybreaker, Sombra
Single Status Update
See all updates by Nightmare Moon i Marudka
Zmiana nazwy konta?......... CO? GDZIE? JAK? KTO ZABIŁ KENNEDY'EGO? GDZIE JEST KRZYŻ! GDZIE JEST KRZYŻ!

 

Więc... Stało się. Wiem, dawniej mój profil zwał się "Mały Wingy" ale... OKEJ! Dobra, powiem. Moon się wtrąciła i powiedziała, żebym zmienił nazwę konta na "Nightmare Moon i Marudka", bo nie chce by konto miało nazwę jej dziecka. Co za tym idzie... No będzie się teraz tak nazywać. Moon strasznie wiele razy udzielała mi się na moimasku, gdzie tam też zmieniłem nazwę, a teraz chce mi się wtrącić także i tutaj. A ja nie potrafię odmówić mojej kochanej, słodkiej Moonie   (Tak naprawdę boję się odmówić, bo nie chcę znowu mieć koszmarów)

 

Okej, ale tak na serio... Żeby nie było... Wingy, to tylko i wyłącznie postać stworzona na potrzeby opowiadania "Jej Mały Demon". Początkowo chciałem być kojarzony właśnie pod tym nickiem, ale... Uznałem że nie. Jeśli chodzi o wattpadowe konto, cóż... Nie wiem, może tam też zmienię nazwę. Może... Profilowe zostanie jakie było, czyli to na którym Moon tuli Wingisia. Jedynie zdjęcie w tle jest nowe.