Content Count

3,861

Joined

Last visited

Days Won

95
Community Reputation
3,586
Pióro Starswirla Brodatego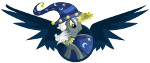 79 Followers
About Cahan
Rank

Tryfid


Birthday

12/24/1995
Informacje profilowe
Gender
Zainteresowania

Botanika, ichtiologia, felinologia, jeździectwo, fantasy, gry komputerowe.
W zasadzie... Interesuję się wszystkim. Lubię uczyć się nowych rzeczy.

Ulubiona postać

Serialowe:
1. Chrysalis Queen of Changellings
2. Celestia
3. Rarity, Starlight Glimmer
4. Sombra, Luna (Nightmare Moon), Sunset, Zecora

Nie lubię:
1. Fluttershy
2. Tirek
3. Maud Pie
4. Apple Bloom
Single Status Update
Doczytaj to co napisałem  o tagowaniu wierszy i napisz mi odpowiedź (wiersze chyba taguje się nieco inaczej niż inne teksty nie rozdziałowe).

Jest oneshotem - więc już to powinno trafić do tagów. Ma też jakąś tematykę i klimat. Sad i dark, jak sądzę.

O to mi chodziło (o określenie) odpowiedniego tagu do wiersza. Przytoczony tago oneshot jakby to powiedzieć jest bardziej stosowany do krótkich tekstów niebędących wierszami. Co ciekawe regulamin tagowania (chyba) nie precyzuje charakteru oneshota jako wiersz, ale raczej krótki tekst niewierszowany). Stąd miałem wątpliwość w tej kwestii gdyż kierowałem się wykładnią przepisu tagowanie, gdzie nie ma wierszy. Powinniście rozszerzyć definicję oneshota o wiersze (nie są uwzględniane w definicji (chyba), by uniknąć wątpliwości. 

Chodzi dokładnie o ten zapis.

 

Tagiem [Oneshot] proszę oznaczać opowiadania które stanowią całość.

 

Ja go rozumiem w ten sposób, że tekst ma krótki dialog naratorra.  Wiersz nie zawiera tych składników (chyba). Ma inną (niedialogową konstrukcję). Nie jest opowiadaniem. Taka wykładnia tagu nie uwzględnia wierszy (liryki), chodź mogę się mylić).

 

Pełen zapis tej instrukcji powinien mieć postać następującą (nie więcej).

 

Tagiem [Oneshot] proszę oznaczać opowiadania które stanowią całość, lub też są w formie wiersza, albo innego typu krótkiego tekstu.