Content count

106

Joined

Last visited
Community Reputation
41
Good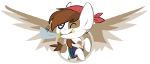 About Rozia
Rank

Polska dubberka


Birthday

04/28/2000
Kontakt
Strona www

http://www.youtube.com/user/whaleizyy03

Skype
Informacje profilowe
Gender
Miasto
Zainteresowania
Ulubiona postać

Scootaloo, Rainbow Dash, Spitfire, Octavia, Vinyl, Lyra
Życie gimbusa bywa ciężkie.

Rozia

changed their profile photo

Dawno, dawno, dawno nie było coverów. Ale niestety, szkoła mnie pożera. Do tego jeszcze egzamin w tym roku i trzeba się przyłożyć. Tutaj zostawiam mój polski fandub do "Rules of Rarity" Zasady Rarity.

Rozia replied to FrozenTear7's topic in Requesty

Chyba to co mnie najbardziej urzeka w tych rysunkach, to pyszczki. Są prześliczne. :3

Takie Sorindasze. Od Sorindaszów się fejmy zdobywa. Szłodkie.

Najtrudniejsza piosenka z jaką kiedykolwiek musiałam się zmierzyć. Ale jestem zadowolona z efektu. "My Wings Aria"

Nie mam w sumie tytułu na to. Rarity Investigates

Zrobiłam nowy zagraniczny kanał, na nim będę wrzucać angielskie duby. A teraz to tu zostawię... CHS Rally Song

Nowy fandub pucyków! Tym razem dorwałam się do nowej piosenki Rarci (która jest cudowna tak BTW). Rules of Rarity

Zrobiłam redraw rysunku Spitifre ze stycznia. Chyba jakiś progress jest. Chociaż nadal nie umiem rysować teł. Nowy, Staroć.

A dziękuję bardzo. Ja nie jestem jakoś specjalnie zawiedziona tym, że wracam do szkoły. Lubię się uczyć, ale nie lubię jak ktoś sprawdza moją wiedzę, czuję się lekko atakowana. Przyjaciół w szkole nie mam, więc za tym jakoś nie tęsknię. Ale jeśli chodzi o upały - kamień z serca.

Żeby na koniec wakacji nie było tak smutno...:3 Fandub Radości i Smutnej

To życzę powodzenia z włosami, bo ja wiele tą postać męczyłam i nadal nie ogarniam tych wszystkich loków...