Content Count

243

Joined

Last visited
Community Reputation
217
Great and Powerful Reputation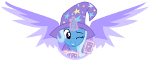 13 Followers
About OjtamOjtam
Rank

Pan doktor


Birthday

07/30/1993
Informacje profilowe
Gender
Miasto
Zainteresowania

Oprócz tego co bezpośrednio wiąże się z moimi studiami i pasją, czyli muzyki (gram na saksofonie) i medycyny, uwielbiam książki SF i fantasy. I kucyki. Eeyup.
Dostałem parę lat temu od Kolegi taką naklejkę (zdjęcie w spoilerze) - nabył chyba na jakimś ponymeecie. Ostatnio mnie naszło, żeby sprawić sobie parę z moim OCkiem i przeglądałem oferty różnych drukarni, ale wszędzie jest opcja tylko hurtowego zamawiania - od 50 sztuk w górę. Może ktoś z was coś podobnego kiedyś drukował w mniejszym nakładze i może podać namiary na jakiś fajny zakład, który mi to zrobi i wytnie w rozsądnej cenie? Myślałem w sumie o kilkudziesięciu sztukach, ale max. po 10 egzemlarzy jednej naklejki. Da się to w ogóle zrobić i nie zbankrutować?


Nowy utwór na moim kanale na yt :3

2

Możesz być kimkolwiek i czymkolwiek zechcesz

Zrobiłem sobie fursonę. Jestem oficjalnie futrzakiem

Dostałem pluszaka

5

Mój pierwszy niezależny projekt muzyczny i zarazem fandomowy cover :3

1

1

No i gotowe! Zajęło mi to dłużej niż myślałem, głównie przez problemy ze znalezieniem muzyków, ale myślę, że wyszło okej. Zapraszam do subskrypcji kanału, bo muzyki będzie więcej w przyszłości - i nie tylko fandomowej (P.S. nadal szukam muzyków do współpracy)

Jestę lekarzę

1

Nie ma to jak zaspać na swoje ostatnie zajęcia na studiach... które w dodatku prowadził dziekan

1

Zrobiłem sobie naklejki na Telegrama :3 Jeśli ktoś by chciał również z nich korzystać, nie mam nic przeciwko Tu jest linek: https://t.me/addstickers/skaju

Naprawdę dobra robota - zarówno od strony instrumentalnej jak i wokalnej. Mam nadzieję usłyszeć więcej od ciebie :3 Tribrony sfinansowało ci nagranie w studio?