Content count

813

Joined

Last visited
Community Reputation
184
Great and Powerful Reputation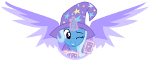 49 Followers
About Littlepip
Rank

pancerny kuc


Birthday

05/12/1986
Kontakt
Strona www

http://aln772.deviantart.com

Skype
Gadu-Gadu
Informacje profilowe
Gender
Miasto
Zainteresowania

fototechnika, komunikacja

Ulubiona postać

Applejack, Twilight Sparkle, Luna, Daring Do
Pamiętam jak jechałem pociągiem z półmetrowym pluszakiem. Miałem go jedynie w zwykłej foliowej torbie, więc był całkowicie widoczny. Przy wysiadaniu kierownik pociągu zagaduje do mnie, że fajny będzie prezent i dzieciaki na pewno się ucieszą. Normalna reakcja.

Littlepip replied to Cheerful Sparkle's topic in Na start...

Witam na forum i w klubie starych koni fandomowych

Kiedy zapadał w sen zimowy

Littlepip replied to Niklas's topic in Sezon VII

Ten tłum to taki typowy fandom. Spiny, kłótnie, itp.

W soboty są droższe bilety i nie wiem czy większość nie będzie wolała iść w tańszy dzień.

za obronę owocowych nietoperzy wampirów

Littlepip replied to Niklas's topic in Sezon VII

To samo widziałem odnośnie szóstego sezonu

Littlepip replied to KochamChemie's topic in Mazowieckie

Ta Rainbowdash wygląda nieco steampunkowo chyba

W drugiej części Equestria Girls jest mowa o specjalnej książce do wysyłania wiadomości Celestii. Ta sama książka pojawia się na początku trzeciej części, więc teoria o smoku wysyłającym listy jest błędna.

Do kompletu kiecka ;p https://m.aliexpress.com/item/32600358968.html

Littlepip replied to Wlocz's topic in Projekty

Swoje oc też mogę jakby co zgłosić.