Content count

1,748

Joined

Last visited
Community Reputation
806
Equestriańska Legenda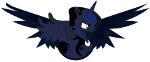 46 Followers
About Po prostu Tomek
Rank

czwarty pancerny


Birthday

July 22
Informacje profilowe
Gender
Miasto

prasłowiański gród Brenna

Zainteresowania

Różnego rodzaju sesje i roleplaye, trochę rysuję, trochę śpiewam, trochę recytuję, ale człowiek renesansu ze mnie żaden.

Ulubiona postać

Chrysalis, Nightmare Moon, Lyra, Neon, Bohun, Windigos. W losowej kolejności. Ah, zapomniałem o Berry Punch :^)
Nie grałbym tyle na komputerze. Co byś zrobił, gdybyś miał zajebisty koncert rockowy niedaleko, ale w sumie zero hajsów na bilet?

Rysowałbym swój autoportret za każdym razem wtedy, kiedy bym jej nie używał, tak coby się nie zgubić. Co byś zrobił/a, gdybyś miał/a na blache wykute gwiezdne mapy?

Żadna, te z kulką najlepsze xD. Ale w imię zabawy niech będzie, że laserowa. Książka z obrazkami czy bez?

Nie. Modlisz się? Nie jakoś turbo głośno na pokaz, tylko sam dla siebie.

Bigos. Klawiatura czy ołówek i kartka?

Popatrzyłbym się trochę co się tam dzieje, i jakbym rozumiał to mógłbym wpaść, a jak nie, to nie. Co byś zrobił, gdybyś pewnej nocy trafił do wymiaru, gdzie nie odkryto Nowego Świata, ale jest przez to jakoś... spokojniej?