Content Count

27

Joined

Last visited
Community Reputation
15
Neutral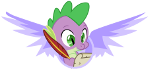 24 Followers
About Pony Writer
Rank

Youtuber


Birthday

12/29/2000
Informacje profilowe
Gender
Miasto
Ulubiona postać

Jak można mieć ulubioną ? :o
Jako, że od dłuższego czasu nagrywam filmy na youtube chciałem was poniaczy poprosić o pomoc. A w czym, zapytacie? Od jakiegoś czasu mam w głowie projekt, który mógłby być pięknym filmem z okazji swoistej jesieni fandomu. Ma on opowiadać o historii Equestri jednak chronologicznie. Od razu mówię, że inspirowałem się tym filmem : https://www.youtube.com/watch?v=VxouoTF_3Ks&t=1s Dlatego też chce was prosić o pomoc. Do projektu potrzebowałbym ludzi znających dosyć szczegółowo historię w serialu (więc nie chodzi mi osoby, które w pewnym momencie przestały oglądać serial) oraz osoby znające się na programach do obróbki video oraz grafiki. Nie mówię, że musisz posiadać wszystkie te 3 cechy, wystarczy jedna. Co do projektu mam zamiar nie długo zacząć, ale muszę zebrać ekipę. Piszcie tutaj:

[email protected]

100 lat!  Baaaardzo spóźnione

1

Najlepszego!!!!!

 

Troszke spóżnione

1

Witam cię również ciepło. Jak zaczęła się twoja przygoda z mlp?

Dzielna Do w Świątyni Maklatungi "Mogła teraz przytulić te wszystkie wspomnienia w jednym czasie. Otworzyła jeszcze na chwile oczy, by ostatni raz zobaczyć, że dzieje się to naprawdę i później je znowu zamknęła. Przeklęła swoją nieuwagę w myślach. Czekała na koniec w milczeniu." Od autora: Dzielna Do spędzała właśnie miłe po południe u Twilight, gdy przyszedł do niej list. Było tam napisane, że jej rodzice zostali porwani przez Ahuizotla i zamierza ich zabić. Twilight i Rainbow postanawiają jej pomóc. Czy rodziców Dzielnej Do uda się uratować? Uwagi końcowe: Jako, że na swoim kanale opowiadałem o tym ficku to postanowiłem wystawić go również tutaj. Wystawiam go również dlatego, gdyż chce usłyszeć opinię ludzi, którzy prawdopodobnie wiedzą trochę więcej ode mnie. Tak, więc przyjmę każdą opinie, a co do posta to mam nadzieję, że wszystko jest dobrze.

1. Ulubiona postać z Mlp 2. Ulubione anime 3. Oglądasz jakieś mlp na youtubie?

Poniaczeł a ode mnie masz reputacje

Weż ty go zostaw, a co do cb to zapraszam cię serdecznie na mój kanał http://www.youtube.com/c/PonyWriter

Na pomysł ten wpadłem oglądając jeden z kabaretów. Niechodzi tutaj, aby podawać swój prawdziwy wiek, ale wymyślić wydarzenie z nim związane np. Jestem tak stary, że trzymałem głowe Piłsudskiego do chrztu. Następnie pytasz się Jak stary jesteś?