 Content Count

35

Joined

Last visited

Days Won

4
Community Reputation
120
Great and Powerful Reputation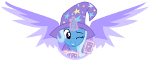 16 Followers
Nie mogę znaleźć żadnej wzmianki tej nazwy w serialu, lecz jest ona na pewno oficjalna

Jak dla mnie to całe Chaosville nie koniecznie jest miastem, a raczej jakimś innym wymiarem stworzonym przez Discorda, gdzie może mieć taki chaos jaki mu się podoba. Widzimy same magiczne, prawdopodobnie stworzone przez Discorda stworzenia, z wyjątkiem listonosza, który ma widoczny problem z poruszaniem się w tym miejscu, co wskazuje na to, że nie jest to miejsce przystosowane do takich stworzeń, więc po prostu nikt tam nie wchodzi. Jedynym kucykiem któremu Discord pozwala tam być jest Fluttershy, zapewne dał jej po prostu taką moc do poruszania się w jego chaotycznym wymiarze. Uważam, że Chaosville jest jego domem i tam mieszka, w ostatnim odcinku widzimy Fluttershy przechodzącą przez portal z tamtąd, gdzie widać Discorda. Zakładam, że zamieszkali oni razem w domu Discorda. Nie wiem czy bywa tam rzadko, nikt tak nigdy nie powiedział. To, że widzimy go często w wielu miejscach nie oznacza, że nie spędza tam czasu. Według mnie spędza tam większość swojego czasu, bo jest to jego dom, a gdy mu się nudzi to teleportuje się tylko to tu to tam...no w zasadzie gdzie chce

Przepraszam (co najmniej) pierwsze dwa odcinki już w czerwcu

Jak znam życie to odcinki będą we wrześniu

To był pierwszy raz z klaczą gwardzistką

Tak Ktoś cię dziś już oblał?

Ktoś mi wytłumaczy co to jest?

3

Nigdzie 

On też tak jak spike jest smokiem i ma podobny odcień czarnego, no i jeszcze te łuski z tyłu głowy mi przypominają

To jest tak beznadziejnie naciągane...
Szczerbatek ma zupełnie inaczej "rogi", te, które u Spike'a są widoczne to akurat najmniejsze jakie Szczerbatek posiada, a te, które wyróżniają go, no nie ma ich. Więc totalnie bezsensu  

1

Info dla osób nie posiadających facebooka:

Stwierdziłam że moje rysunki kucyków są bardzo nieproporcjonalnie i ćwiczę teraz przerysowywując postacie z odcinków

Pierwsza część dostępna już po polsku.